Léocard (Aimé, Sébastien), 26 juin 1925, soldat, infanterie.
February 28, 2007

HELLO MY FRIENDS.. HERE IS THE MAIL WE DO NOT WANT TO HAVE TO SENT TO YOU.

YESTERDAY AFTERNOON IN FREJUS. OUR FRIEND, HONORATE MEMBER OF THE 517TH ,ONE OF THE MOST POPULAR FRENCH FRIEND OF ALL THE VETERANS, AIME LEOCARD DIED SUDDENLY.

THE FUNERALS WILL BE TOMORROW FRIDAY AT 2 PM IN DRAGUIGNAN .

WE WILL BE THERE AND IF ANYBODY HAVE A MESSAGE FOR THE FAMILY PLEASE SENT EMAIL TO THIS ADDRESS; WE WILL PRINT IT AND GIVE TO AIME FAMILY.

WARMEST REGARDS.

MICHAEL AND ERIC,

AIRBORNE MUSEUM OF LE MUY FRANCE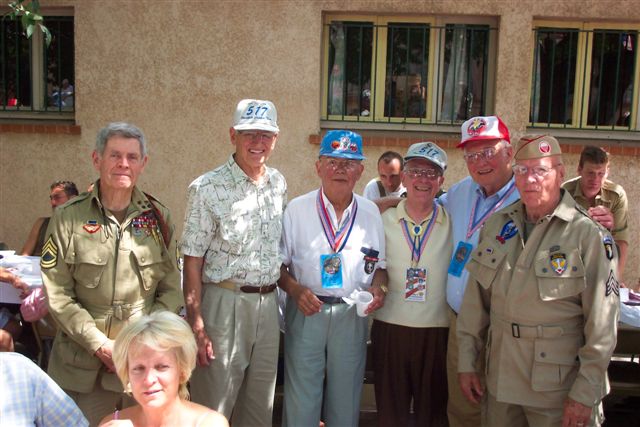 This one shows the men of the 517 with Aime: Gene Frice, Lud Gibbons, Aime, Leo Dean, Allan Johnson, and Merle McMorrow. This was taken at a community lunch during the celebration days.
Dear Aimé
Leocard's daughter and family and Antoinette:
We were so sorry to learn the very sad news of Aimé 's sudden death. Words are so inadequate to express our sorrow and sympathy. We hope you know you have many members of the 517th and their families who have you in our thoughts and prayers.
How blessed we were to have met Aimé and to have his enthusiasm, knowledge and leadership guiding us when we visited southern France with my father, Dick Seitz, in July of 2005. Aimé made our trip a trip of a lifetime. What a wonderful, witty, charming, intelligent and fun-loving guy he was. What a great smile and such energy (to say nothing of his love of fine wine!). We would never have known he was a resistance hero himself had others not told us; he was so humble never talking about himself. There was nothing that he did not do to help us, introduce us to folks, give us tours, as he did all returning veterans and their families, to say nothing of his efforts to preserve the history of the 517th's efforts in August of 1944 especially the Cemetery in Draguignan (what a moving visit he arranged there). We have lost a great friend indeed. He was a person of positive, true impact who taught us the importance of demonstrating our gratitude to those who gave their lives so that we can live in freedom. We will treasure the pictures we have of him and Antoinette (including the one Antoinette painted), plus the memories of the incredible 14th of July celebrations we experienced because of him and his love of the 517th.
May the Good Lord enfold you in His Divine Love and give you His Peace to help counter your sorrow. We thank you for sharing this great man with the rest of us as our lives are so much richer because of him.
Sincerely,
Patricia Seitz and Alan Greer
What a shock ! He was so faithful in his admiration of our fighting for France's Freedom . Not only was he an honorary member of our Combat Team, he had a special place in his heart for the 596th and vice versa . He was also a great host when we came to Nice .Since you gave me his address and phone number in December, I kept saying to myself , "I'm going to call Aime. ". Then I procrastinated and now it's too late . I am remiss, indeed. and very remorseful . Please express my condolences to Pat, Dan, and Liz . God rest his Soul in Heaven .
Bob Dalrymple
Arnold et Irma TARGNION, Maria GASPAR
Dear Ben,
We are really upset about the sad mail and the lost of Aimé Léocard. It is a bit strange but I am but I cannot reach the E-mail address of Jean-Michel and Eric. In french, I will send our condolences. Thank you;
Irma, Arnold and Maria
Chers amis et famille d'Aimé,
Nous vous présentons nos condoléances émues et sincères et nous pensons à Aimé avec qui nous avions partagé des moments d'émotion durant plusieurs réunions 517th aux USA. Quel homme attachant et chaleureux, il était dévoué, respectueux et fier de rendre hommage à ces valeureux soldats qui nous ont rendu la liberté. Cordial, comme seuls savent l'être les gens du sud, il était un lien solide et fidèle entre son pays et l'Amérique. Qu'il repose en paix au paradis des hommes braves et courageux. Nous ne l'oublierons pas.
Arnold et Irma TARGNION,Maria GASPAR, Comité d'Accueil des US Airborne Trois-Ponts, Belgique
Michael and Eric, Airborne museum of Le muy France
On behalf of Aimé Leocard family, we would like to thank so very much all his friends, veterans , brother in arms, and family for the warmest condolences and prayers you send. The funeral was very emotional but with a lot of modesty like Aimé was. One more time at this occasion the french and american flags flow together, side by side, remembering the great friendship between our country.
Aimé spend his life to perpetuate this friendship, as our teacher, we will walk in his shoes, follow this way, and continue his work for the futures generations.
Michael and Eric, Airborne museum of Le muy France
(photo bellow of aimé on right, at 15th of august ceremony; american cemetery Draguignan)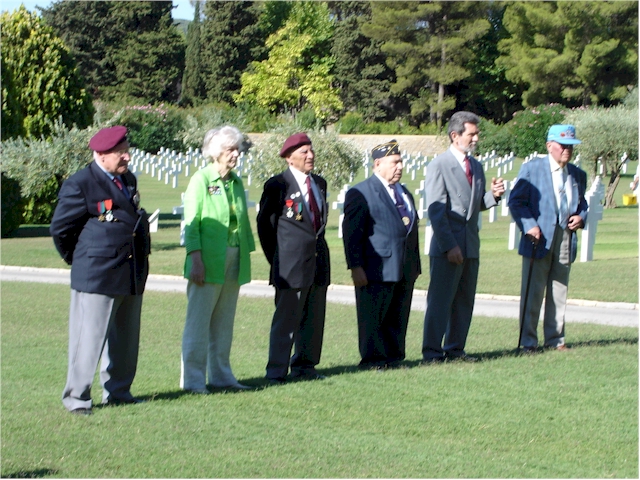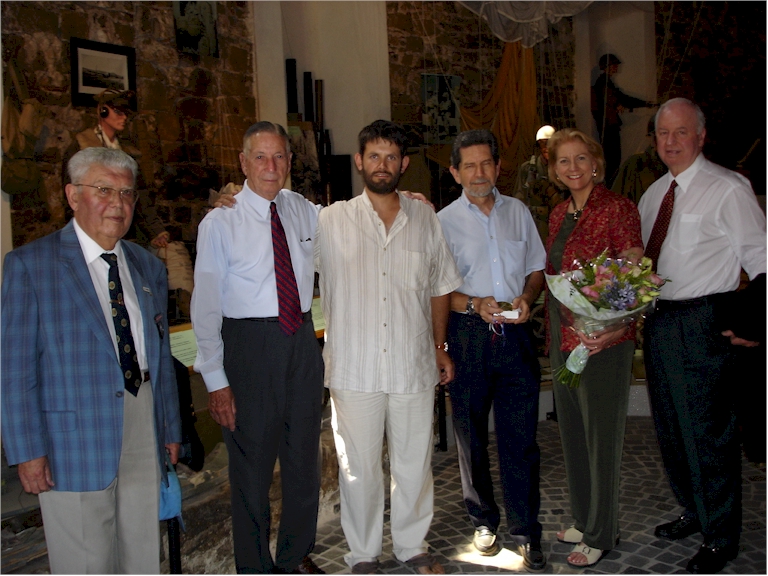 Aime Dick Seitz Eric Mayor? Pat Seitz Allan Greer
Dear family and friends of Aime Leocard;
It is with sweet sorrow that we of the 517th PIR receive the notice of the passing of a long standing true friend of this remaining remnant of the rapidly dwindling 517th Regimental combat tem by the passing of our own! Sweet? Sorrow? Sweet and pleasant relationship with his constant friendship even to the many instances of friendship to the end. Even the many cards at celebrated seasons of the years. Sorrow with the family and friends in accepting the inevitable final passing of a great friendly man.
Walter W Smith, HQ 1st 517
I was extremely sorry to hear of the sad loss, and feel I must express my deep and heartfelt sympathy.

In the passing of Aime Leocard, I and all the members of the 517th Parachute Infantry Combat Team have lost a loyal good friend and patriot, and know how bitter the blow must be to you.

Boom Boom Alicki
Leocard Family:
Aime was one of the greatest friend the 517th had. He was honored at many of our reunions and we will forever be grateful for his contributions made to preserve the history of our Unit in the south of France. As a teacher he had his students place flowers and flags on the graves at the Rhone-American Cemetery in Draguignan. He told me that he wanted the young people to remember and be forever grateful for those who gave their lives in order that future generations could live in freedom. His correspondence always ended with GOD BLESS AMERICA.
Our sympathy is also extended to Antionette. She is a lovely lady and we think of her each time we see the paintings in our home that she presented to us.
In sympathy,
Merle & Mardy Mc Morrow
Marie-Lise Neal (nee Leocard)
Dear Friends

As the daughter of Aime S. Leocard, I would like to thank you all for your expressions of sympathy and loss at the death of my father, Aime
S. Leocard on Monday, February 26th.

Although his health had been deteriorating for about a year, on the Saturday, during a visit to France, we were sitting, chatting on a
bench by the seaside. And on Sunday he was talking to my husband in perfect English.

I know that he was intensely proud of all the friendships he had made with US parachutists and their families and always looked forward to
meeting you on his visits to the USA or your visits to France.

I, myself, was delighted to meet the families who came to France to visit the resting places of their loved ones through the association
he jointly founded, Souvenir Franco-Americain.

With my husband and two sons I have now been living in England for many years. My sons are both very proud of their grandfather and his
actions in the Resistance and the liberation of the south of France.

My family and my brothers, Jean-Daniel and Jean-Patrick, join me in thanking you again and wishing you and your families good health.

Yours sincerely

Marie-Lise Neal (nee Leocard)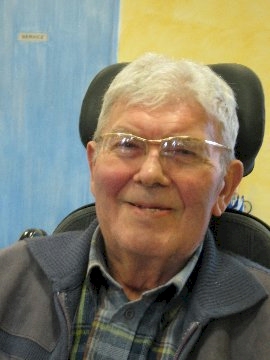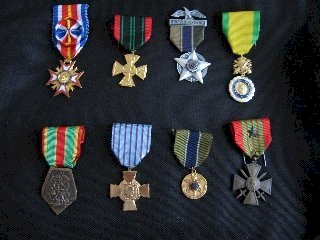 dear Ben,
We are working on Aimé Leocard Story and try several times to have information from his family without success, I will check on the french local resistance president and promise to do the best, with his modesty he never talk a lot about him, but we were very impressed of all the military medals displayed on the funeral. including the "medaille militaire" which is awarded to a soldier for a very special action in combat. (approx US silver star).
J. Michael & Eric, Airborne Museum Le Muy France.
"
Ministry for defense By Presidential decree of the Republic dated December 8, 1999, taken on the report/ratio of the Prime Minister and the Minister for defense and concerned for its execution by the large chancellor of the Legion of honor, considering the declaration of the council of the bearing dated October 7, 1999 order that the present concessions of the military decoration are made in conformity of the laws, decrees and payments in force, the military personnel not belonging to the regular army indicated hereafter is decorated with the
Médaille militaire
:

ARMY
Léocard (Aime, Sebastien), June 26, 1925, soldier, infantry."
From Wikipedia:
The Médaille militaire (Military Medal) is a decoration of the French Republic which was first instituted in 1852.
The creator of the médaille was the emperor Napoléon III, who may have taken his inspiration in a medal issued by his father, Louis Bonaparte, King of Holland. The Military Medal is issued to any non-commissioned officer or enlisted personnel who distinguishes himself by acts of bravery in action against an enemy force. Commissioned officers are not eligible. An interesting feature of the médaille is that it's also the supreme award for leadership, being awarded to generals and admirals who had been commanders-in-chief. This particular médaille is considered superior even to the grand cross of the Légion d'honneur.
More from the French Wikipedia (roughly translated):
Medal of the brave men, or jewel of the nation, such are the terms employed to describe it…
One of the most prestigious decorations in the world, but also of most original since it rewards at the same time the soldiers, graded and warrant officers and, in exceptional circumstances, the Generals having ordered in chief in front of the enemy...
By creating the Military decoration, Prince President Louis-Napoleon Bonaparte intended to reward the merits for the best soldiers and warrant officers. On March 22, 1852, vis-a-vis the carrousel of Louvre, it is addressed to the first 48 member elects thus: "Soldiers, how much time I regretted seeing soldiers and warrant officers to return in their hearths without reward, though by the duration of their services, wounds, actions worthy of praises, they had deserved a testimony of satisfaction of the fatherland!" "Is for theirs to grant that I instituted this medal (...). It will ensure 100 frank of life annuity; it is little, certainly; but what is much, it is the ribbon which you will carry on the chest and which will say to your comrades, your families, your fellow-citizens that [the person who carries it] is a brave man (...)"
Here is a very interesting document Aimé Leocard daughter sent to me from a speech he did in 1987, he talked about our country during WWII and give a good idea to the new generation of the situation at this time and also his war experience and the first time he met paratroopers of the 551st and the 517th.
Regards J. Michael.
J.Michael & Eric,
airborne museum Le Muy France