517th Parachute Regimental Combat Team

Allan Ross Goodman, Sr.

596th Combat Engineer Company

October 10, 1924 - July 17, 2003
Allan Ross Goodman, Sr.
October 10, 1924 - July 17, 2003

Al Goodman was born in Chicago, Illinois and reared in Oak Park, Illinois, where he graduated from Oak Park-River Forest Township Union High School.
Al volunteered as a paratrooper in the US Army during World War II. During his training, he married his high school sweetheart, Alice Williams Bauld, on January 14, 1944. He served in the 517th Parachute Regimental Combat Team which participated in the invasion of Italy, Southern France, the Battle of the Bulge, and the occupation of Berlin. He played football for the 82nd Airborne Division in the Olympic Stadium in Berlin, 1945. He was decorated with the Bronze Star for heroism under fire.
After the war, Al earned a Bachelor of Science in Civil Engineering from the University of Illinois. He and Alice moved to California in 1949, and to Bakersfield in December, 1954. He was President of Griffin Steel and Fabricators. The company was responsible for replacing many major structures damaged by the 1952 earthquake, including the County Administrative Offices and the new Bakersfield College Campus. The company went on to help build many of the major buildings that became Bakersfield landmarks.
Service to the community was a vital part of Al's life. He was always an active leader in every organization he joined. He served as President of Bakersfield East Rotary from 1973-1974, and was named Rotarian of the Year, 1983-1984. He also received the Paul Harris Fellowship. He was a member of the Masonic Order and a Shriner. He was a member of SIRS, Sons in Retirement.
In his retirement, Al worked with other veterans to collect and publish the soldiers' stories. Al's remarkable memory contributed many stories to books such as Gerald Astor's Battling Buzzards and Clark Archer's Paratrooper's Odyssey. He served as President, 596th Combat Engineer Company, 1981-1983, and President, 517th Parachute Regimental Combat Team Association, 2002-2003. He and Alice attended reunions throughout the country. More than anything, he valued the lifelong bonds and friendships formed while serving his country.
Al was a longtime member of Bakersfield Country Club, serving on the Board of Directors, and will be remembered as an honest golfer, always in possession of THE RULES OF GOLF. In recent years he was a member of Rio Bravo Country Club, enjoying the fellowship of the McClure Group. Al served as mentor and role model for golfer etiquette for his children and their spouses, as well as anyone else who had the privilege of playing with him.
Survived by his best friend and wife of 59 years, Alice; brother John and his wife Terri; sister Virginia Loyola; daughter Ann and husband Robert Parrish, grandchildren Laurel and Robb; daughter Mary and husband German Pereira, grandchildren Greg, David, Diana, and great granddaughter Madeline; son Allan, Jr., and wife Marian, grandchildren Brian and Melissa; daughter Beth and grandchildren Mary Beth and Russell. He was recently preceded in death by his sister Mary.
In lieu of flowers, the family suggests memorials to the Assistance League of Bakersfield, or your favorite charity.

We will miss our husband and father and will feel his presence forever. Memorial services are pending publication.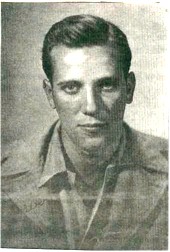 Allan Goodman
1924-2003


---
Excerpt from Battling Buzzards by Gerald Astor. 1993, October 2001, Dell paperback printing, pp. 240- 241:

"Allan Goodman discovered engineer Geroge Ayling and several others removing a detonator from an unexploded 500-pound aerial bomb. 'I gave them hell for risking it because it was in an open area and defusing the thing wasn't necessary'.

A day later, the knowledge gained by Ayling aided Goodman. 'I encountered another one of those bombs at a bridge approach. It had a timing device that seemed to have malfunctioned. I cleared the area and disarmed this one myself. I almost jumped out of my skin when at the critical moments, a local couple bicycled past and shouted, 'Bon jour!' They had slipped by the roadblock but when they saw what I was doing and the look on my face, they pedaled away fast. Lieutenant Zavattero wrote up a citation and I received a Bronze Star. That embarrassed me some, since George and the others had disarmed a similar bomb just for the experience'. "