517th Parachute Regimental Combat Team

Benedict James Barrett

H Company

July 20, 1918 - Feb 26, 2010
- - - D R A F T - - -
The Army Years:
I tried to enlist in the army in 1937 but was turned down for physical reasons, so I spent two years in the Civilian Conservation Corps in New Hampshire and Colorado.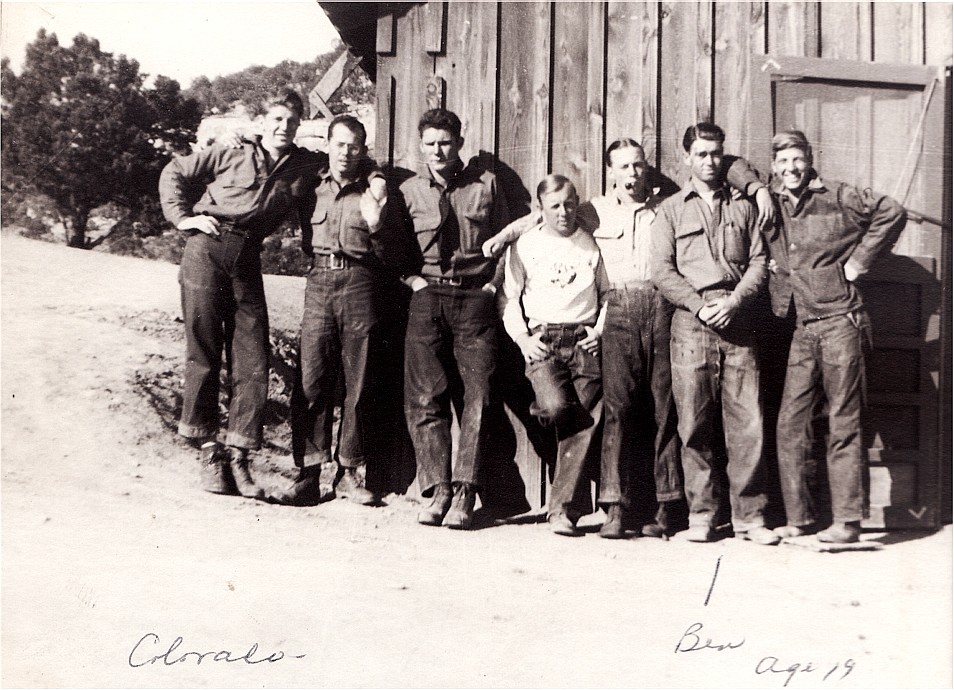 In Colorado with the CCC
I tried to enlist again in New Hampshire where I again failed the physical (heart murmur). The recruiting officer suggested that I go over to Maine -- "They are taking everybody". I did, and he was right.
I had basic training at Ft. Devens in Massachusetts.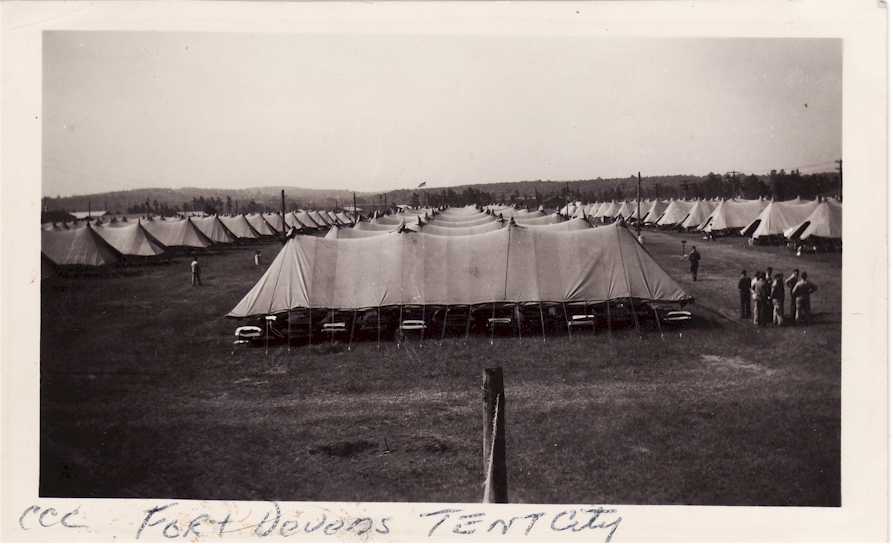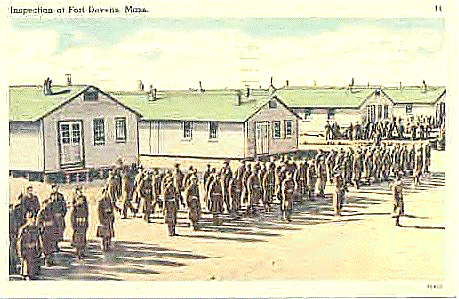 Inspection at Fort Devens, postcard from the 1940s(?)
In those days, the army sent you to where they wanted. You had no choice in what branch of the army you would serve with. I was assigned A Battery, 22nd Coast Artillery Regiment at the Coast Artillery base in Portsmouth, N.H., a soldier's paradise in the peace time army because, besides being near the ocean, you were usually stationed near a large city. We were about fifty miles from Boston and we could get a 2:00 AM train back to Portsmouth in time for reveille. In the regular army you might get away with some infractions, but missing reveille was not one of them.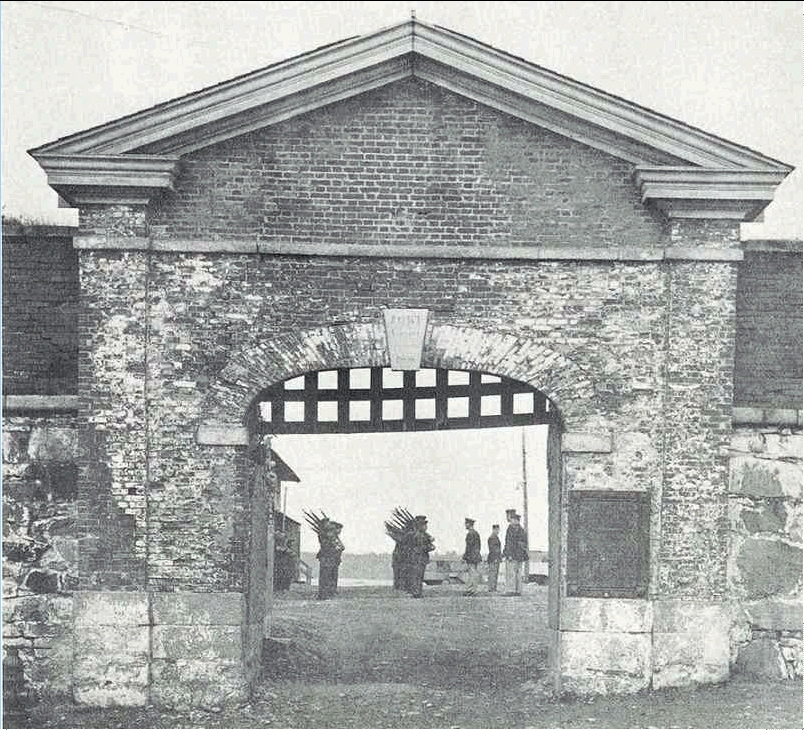 1941 - Inspection of troops by officers of Battery A (Mines), 22nd Coast Artillery (Harbor Defense), shortly after the fort was re-garrisoned, several months before Pearl Harbor.
I eventually obtained a Staff Sergeant's rating and later became a boson on an Army mine planter.
One day, with about four other soldiers, we were aboard the mine planter General Richard Arnold placing buoys for a minefield that was to be planted later. At that time the ship was manned by civilians. The captain got a call to go out to sea to rescue the L88 which was disabled in a storm. My commanding officer sent a yawl out to take the army personal off the ship since we had been out since 4:00 am. The Arnold reached the L88 but also was in trouble and had to have a large mine planter Absolom Baird come to the rescue of both ships. The Arnold sank with the loss of ten men. Fortunately, our Commanding officer had the good sense to have us taken off the ship before it went further out to sea.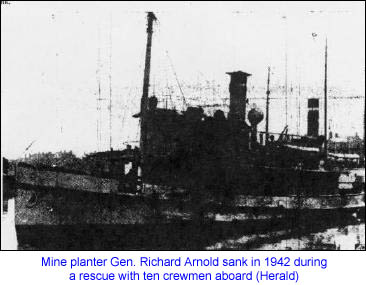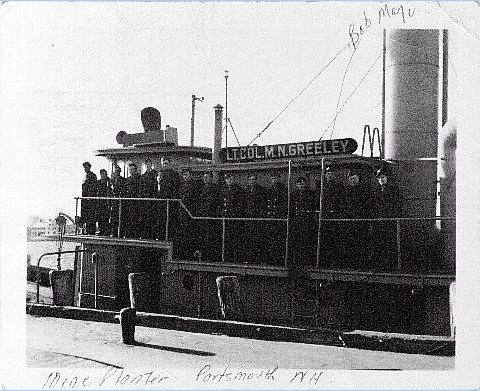 The U.S. Army Junior Mine Planter (JMP) Lt. Col. M.N. Greeley, at dock at the Fort Constitution wharf sometime in late 1942. This boat had replaced the JMP General Richard Arnold after it had sank with all hands in January 1942.
After Pearl Harbor, I tried to get transferred to a unit that would likely go overseas. You could sign up for the paratroops. I gave up my rank and went to jump school with the 515. I thought the 515 was a good unit but it didn't seem to be going overseas at that time, so I turned down a 1st Sergeant's rank and volunteered to go overseas as a replacement. After a tour in Sicily, I became part of the cadre for the parachute school in Rome where the FFI and American volunteers were being qualified as paratroopers.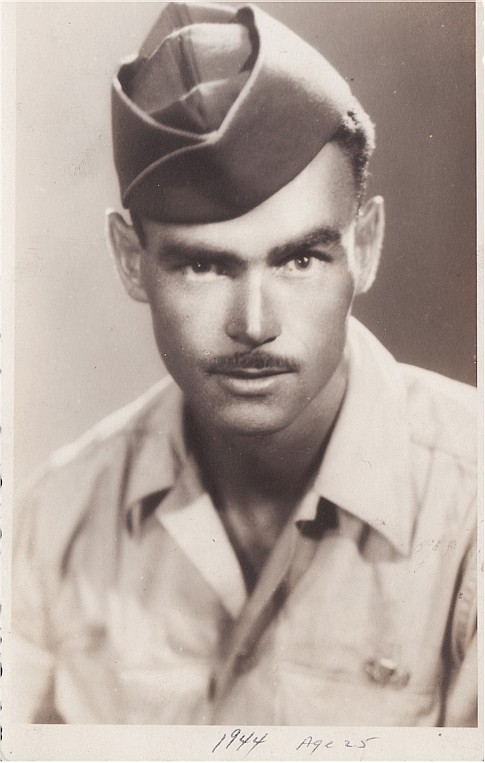 Ben in Rome, 1944
I joined the 517 in Sospel area in Southern France. I was with the 3rd Bn when it had its headquarters in the Golf Hotel which was a target for German artillery. Howard Hensleigh recalls plaster falling on the officers on the first floor. Our platoon was on the third floor, where the plaster was coming from.
| | |
| --- | --- |
| Hotel du Golf in Sospel, France 2009 | Damaged Golf Hotel, 1944 |
Around the middle of November we marched about fifty miles to the outskirts of Nice, and soon after boarded 40-and-8 boxcars for Soissons.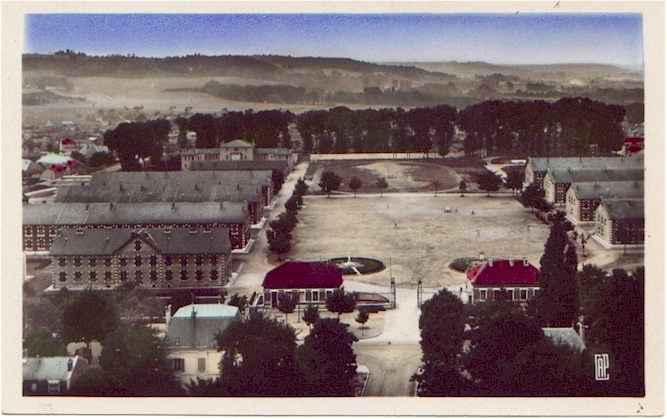 Soissons, France
On December 18, 1944, we boarded trucks for the Ardennes which was where The Battle of The Bulge was beginning. We moved around the area for several nights. I was in "H" Company.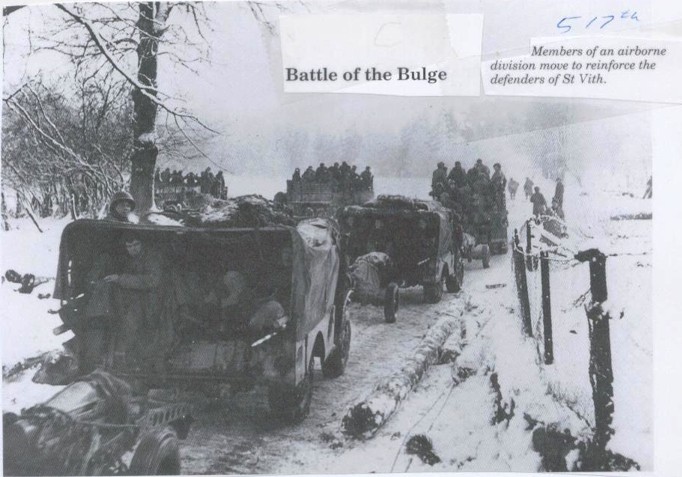 Heading to the Bulge
(Time Magazine, 1944)
We spent Christmas Eve in Malmedy, and the next morning the fog lifted and the sky was covered with American bombers headed for Germany. On December 27, 'H' and ' I' companies led the successful attack on Manhay, and about a week later we entered Trois Ponts.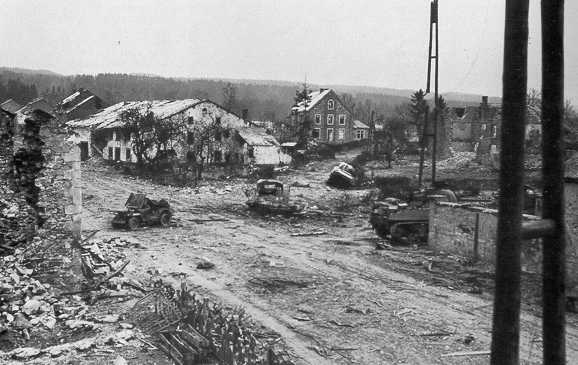 Manhay, Christmas, 1944
On January 4, 1945, we were relieved and marched to Bergeval. That night, January 5, I was wounded by a German shell that caused 17 casualties.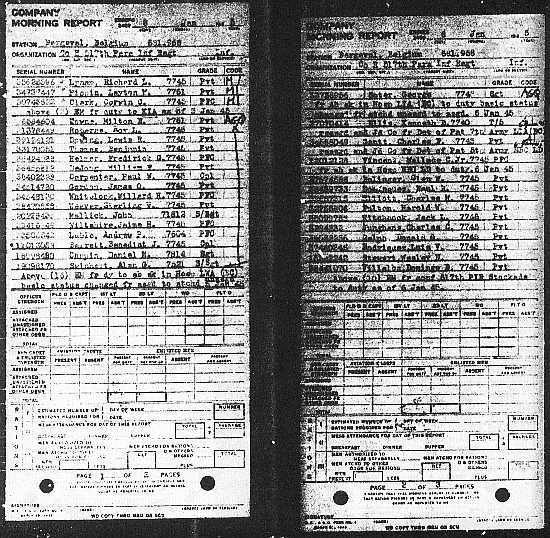 Morning Report, Jan 5, 1945, Bergeval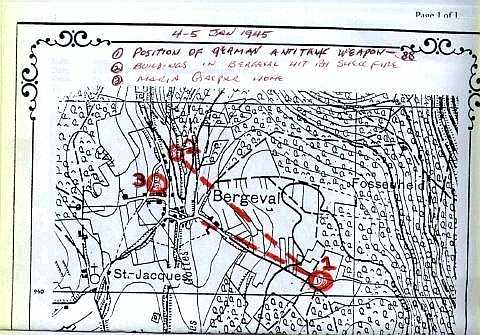 After about six months in the hospital, I was discharged at Lovell General Hospital, Ft. Devens, MA, where I had entered the army in 1940.
I attended Boston University under the GI Bill, and graduated in 1949.
While there, I met Mary Frances Lawlor, whom I married in 1950.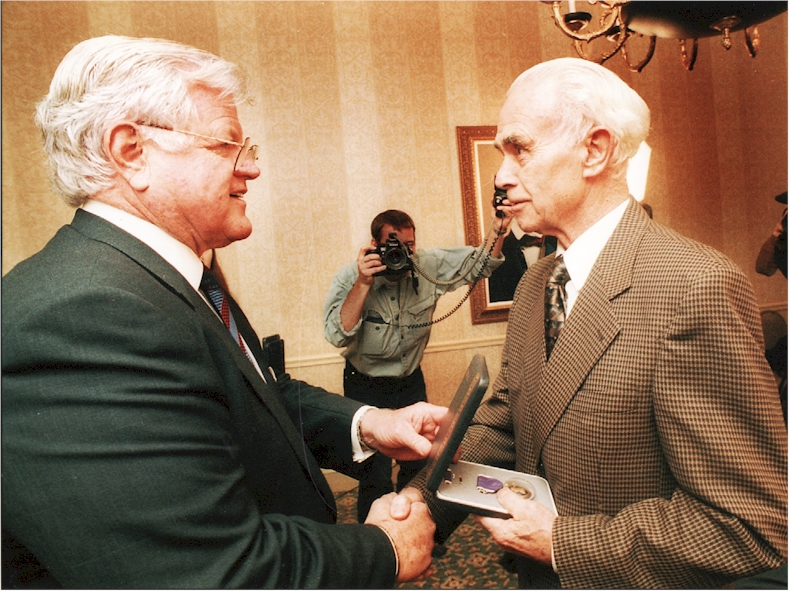 Ben receives his WWII medals from senator Ted Kennedy (1996?)
Army Nurse Lt. Mary Frances Lawlor (Mrs. Ben Barrett)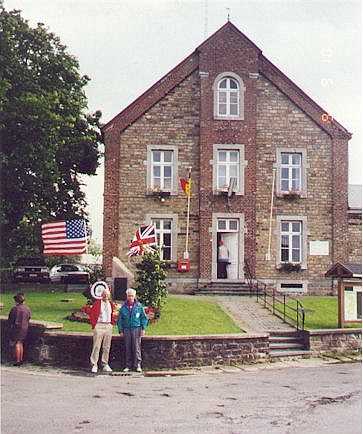 Lud Gibbons and Ben Barrett in Manhay, 1995
| | |
| --- | --- |
| Ben with Maria Gaspar (Bergeval, Belgium 2009) | Irma Targnion and Ben (Trois Ponts, Belgium 2009) |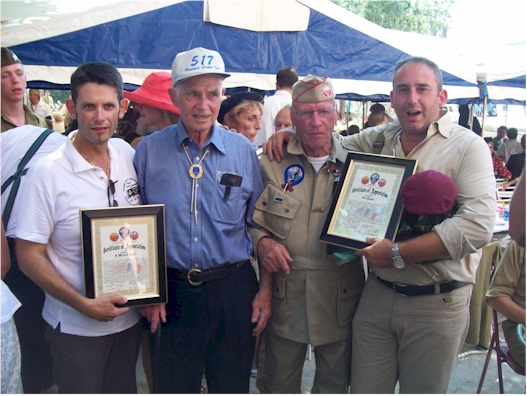 J. Mickael Soldi, Ben, Merle, Eric Renoux (Le Muy, France, 2009)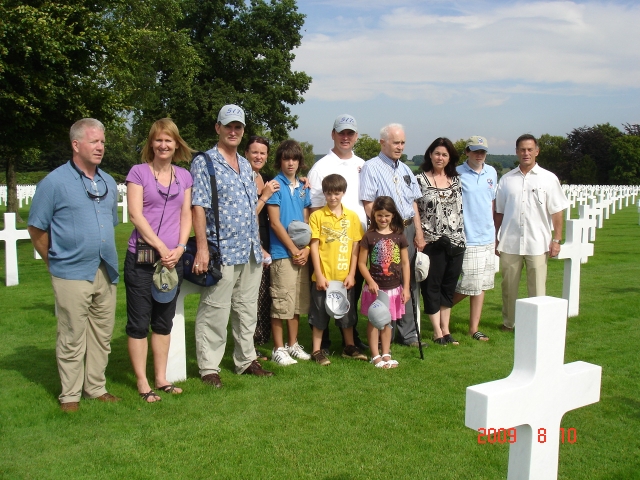 some of the Barrett family at the American Cemetery Henri-Chappelle, August 2009
---
Cohasset, MA - February 26, 2010 -- Benedict James Barrett passed away February 26, 2010, at the age of 91, surrounded by his loving family at his home in Cohasset. He is survived by his wife of 60 years, Mary Frances, and his six children: Stephen Barrett; Robert Barrett; Joanne Barrett; Nancy Barrett; Paul Barrett; and Jeffrey Barrett; and his 11 grandchildren.
Ben was born in 1918 in Berlin, NH. After High School, he worked in the White Mountains Civilian Conservation Corps. He enlisted in the US Army in 1939 and served as Staff Sergeant at Coastal Artillery base in Portsmouth, NH. During WWII, he volunteered as a paratrooper and joined the renowned 517th Parachute Regimental Combat Team, one of the country's first elite combat units. Ben fought in Italy, France and during the Battle of the Bulge in Belgium, where he earned a Bronze Star and Purple Heart.
He attended Boston University. He married Mary Frances Lawlor, and raised six children in Saugus, MA. For 30 years, Ben managed his own laundry business in Cambridge, MA. After he retired, he continued to work in Saugus, and was a popular figure around Saugus Center, until he moved to Cohasset in 2004.
More recently, Ben became an active member of the 517th PRCT veterans group. In 1999, he started a web site (517prct.org) to collect and maintain the history of the 517th, and also sent out a daily Mail Call newsletter for the 517th veterans and friends around the world. In 1995 and 2009, Ben traveled back to Europe with the 517th PRCT to visit battle sites and to celebrate the WWII liberation of France and Belgium. Ben and the other veterans were awarded the distinction of Chevalier (Knight) in the National Order of the Legion of Honour by the French Government.
A celebration of Ben's life will occur in Arlington, Virginia, and interment at Arlington National Cemetery.
In lieu of flowers, donations may be made in Bens memory to the 517th PRCT Association, c/o Joanne Barrett, 70 Pleasant Street, Cohasset, MA 02025
---
Thank you to Ben's family for continuing to keep the 517 in touch as he became ill in the last couple of weeks.

It is not often that we can say that one single man made an enormous difference. However, the men and families of the 517 know that this is not the case for Ben Barrett.

He would often tell the story - how he got a computer and interested in the Internet, and pointed out to the men in the 517 Association that they should have their own website. How when he started, he knew nothing about computers and his son Bob knew nothing about the 517.

Together, and with the help of other family members as well, they preserved literally thousands of pages of history. It's all in one place, thanks to Ben's initiative. It's all safe and available for inspection for future generations, thanks to Ben's insistence.
But the important thing about the website is that it remains an open portal for its members. The men of the 517 still forward photos and stories - stories to be archived for the unit.

And Mail Call has helped us stay in touch - get ready for reunions - nurture new friends - and get ready for more reunions. The 517 still - still - has two reunions every year!

Mail Call has introduced many of us to small snippets of history as children, grandchildren, re-enactors and interested questioners posed the questions pertaining to training, to small incidents and to great engagements. We have heard not only about the jump tower but about terrible food and even occasional wine, and getting to Paris on a pass. We've read not only about the Bulge but about mules. We've gotten such a full picture, thanks to Ben.

Mail Call has let us share news good and bad, pray for each other, celebrate and grieve together, and given us a window from which to watch exchanges as men share the experiences of more than 60 years ago.

The 517 was a moment in time - a group of men who volunteered to do a job when their country needed them. Preserving the history of their sacrifice, and the sacrifice of those who did not return home, is Ben's greatest gift to the 517 - to the Association.
His greatest gift to us - the members and family members - is the friendships that have grown as a result. The website fed Mail Call - Mail Call fed the reunions - the reunions fed Mail Call - and we all know each other and care for each other.
And so this is a hard day for the 517. Pause and raise a glass to the man who made a difference. Toast his life and his accomplishments.

And then, please honor his life by telling your story, veterans, to someone for inclusion on the website, or simply recorded for your family. Auxiliary members, we need to do this for Ben.

Ben's sons and daughters have long helped with Mail Call, so keep the contributions coming. It is what he wanted and thrived on for the last 11 or 12 years.

Here's to Ben.

Claire Giblin
---