PFC Floyd R. Perry
Headquarters Company, 2nd Battalion
---
Floyd Russell Perry biography
Floyd was born to Cash and Mattie Perry on 15 January 1921 and they lived at 569 Cable Street Indianapolis Indiana with his older sister Edith Perry, later Rogers and 2 brothers, Ervin and Harlan Gerald who was a member of the 566 SAW BN at Normandy and 4 more campaigns.
Floyd joined the Army at camp Atterbury Indianapolis IN on 4 Sept. 1942 and trained as an MP stateside for 1 year earning the American Campaign Medal. He shipped out overseas and was with the 1178th MP Co, Aviation in North Africa 4 Sept 43 to 24 Nov 43 and was sent to Foggia Italy in support of the newly formed 15th AAF commanded by Col Doolittle. He is credited for the Naples/Foggia and Rome/Arno campaigns in Italy. The next reference of record indicates that he is listed as assigned to the HQ Co. 2nd BN 517th PIR on the copy of the General Order #22, dated 15 NOV 1944 for men of the 517th PIR/PRCT for award of the CIB, Combat Infantryman Badge. A copy of this document is found on the 517th PRCT website and he is also listed on the 1944 Christmas roster.
On his WD AGO 53-55 he is listed as being awarded the Purple Heart w/1 oak leaf Cluster for wounds received in Belgium 14 and 16 Jan 45 per GO 33, while assigned to HQ Co. 2nd BN. What transpired after wounds received in Jan 45 is unclear although his discharge paper indicate that he was assigned to HQ Co. 2nd BN 513th PIR/17th Airborne Division and has been awarded a Bronze Invasion Arrowhead device for participation in the airborne assault over the Rhine into Wesel Germany in Operation Varsity and left ETO on 6 Sept 45 and arrived 14 Sept 45 stateside while assigned to the 513th PIR when they arrived at Camp Myles Standish and disbanded the same day and Floyd R. Perry was discharged at Camp Atterbury Indiana on 19 Sept 1945 after having served 2 years overseas.
He is credited for having achieved the rank of Corporal, being awarded the Bronze Star (awarded retroactive in conjunction with the CIB); the Purple Heart w/1 oak leaf cluster; the Good Conduct Medal for 3 years of active duty service; the American Campaign Medal; EAME/ETO Medal w/silver campaign star indicating 5 campaigns and the Bronze Arrowhead device for airborne assault; the Occupation Medal w/Germany Bar; Basic Parachute Qualification Badge w/1 airborne invasion assault star; the USAAF Observers Wing earned while serving as an MP with the 5th Army in support of the 15th AAF in Italy.
After returning to Indianapolis, Indiana, Floyd worked for 12 years at Link Belt industrial crane manufacturer and was married to Betty and divorced with 2 children, Marilyn and David Perry. Floyd was remarried to Patricia Jackson and had two sons Dannie age 33 Months and James born 1 month following his death. After being hospitalized in June 61 for corrective surgery for wounds received in Belgium Jan 45 Floyd R. Perry died at the Indianapolis VA from a staph infection contracted during back surgery on 1 July 1961 at age 40. Floyd's service records were virtually unknown until a copy of his WD AGO 53-55 was discovered in March of 2010 by his youngest son James at the Indiana State Library Archives where upon discharge a copy was recorded when Floyd had requested the coveted "Lifetime Hunting Fishing Stamp" and a post discharge bonus of $300. In the late '70's it was officially stated that his service records had been destroyed in the 1973 St. Louis MO. National Archives Records Center fire. Family members are currently attempting to reconstruct an official DD-214 and a memorial to his service. If anyone remembers Floyd R. Perry please contact 812-201-3025 or dannieperry@att.net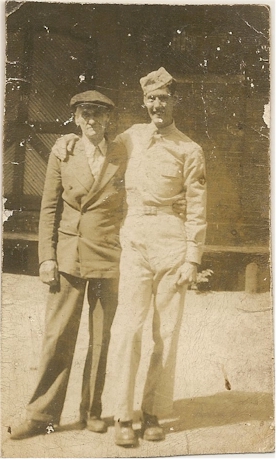 Floyd R Perry & Dad Cash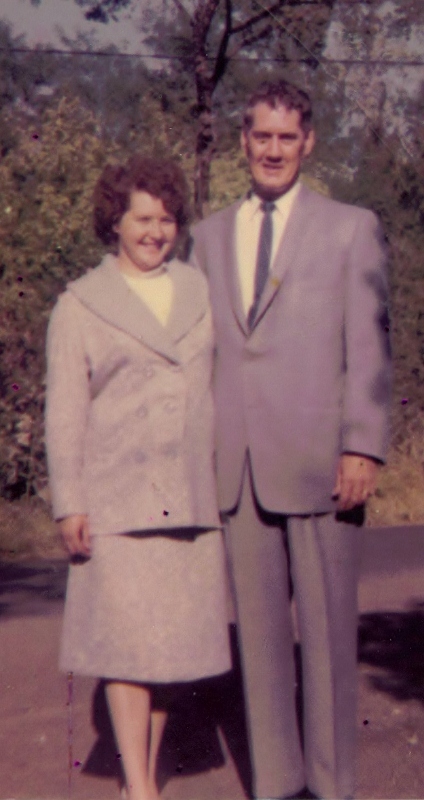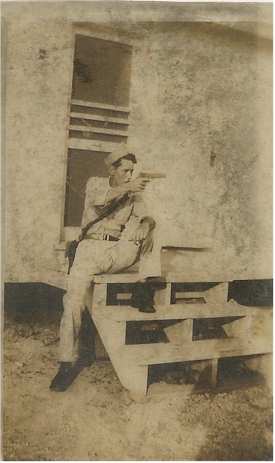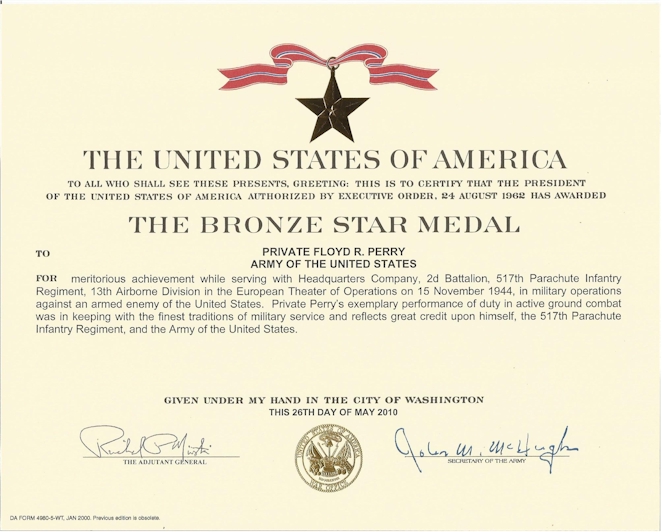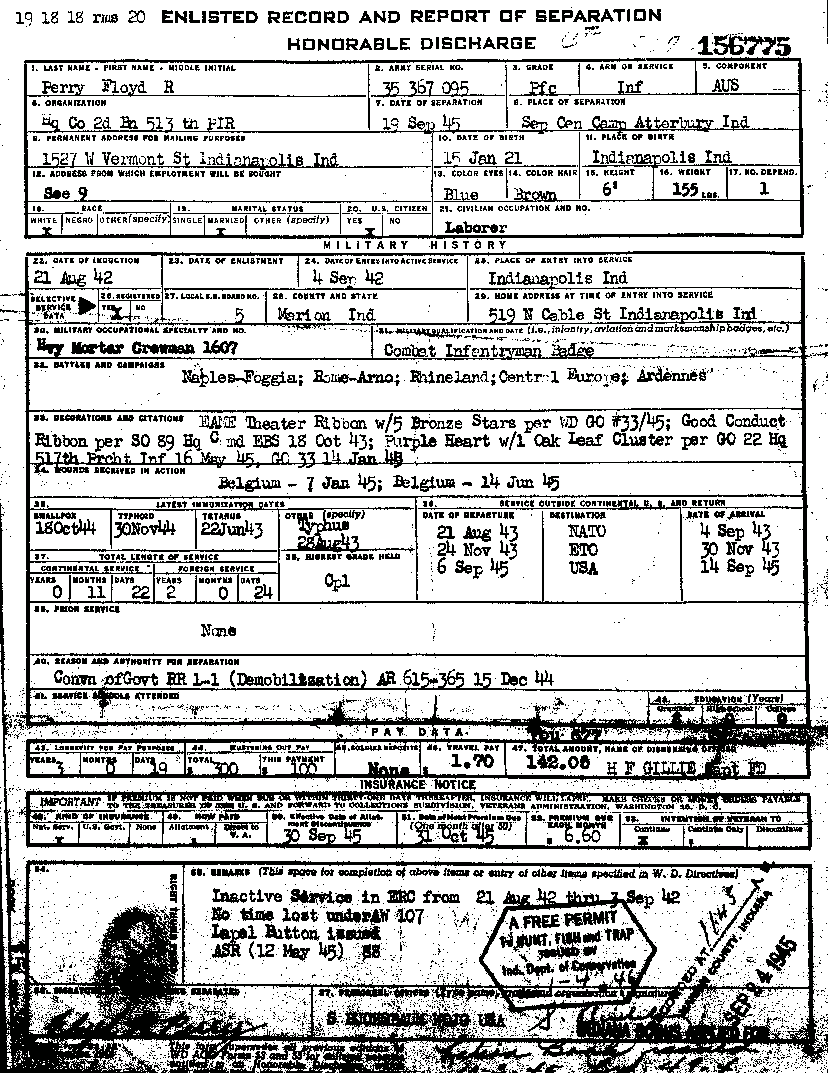 Submitted December 2012 by Dannie Perry