517th Parachute Regimental Combat Team

Howard E. Hensleigh

3rd Battalion
Dear Ben:
You mentioned that I should have a bio on the web. Here goes:
---
- - - D R A F T - - -
Born Blanchard, Iowa 10-29-1920. Lived in Iowa and Texas, then first grade in Tarkio, MO, 2-5th grade Seneca, KS, 6th grade through high school graduation (1939), Hamburg IA. My father was a coach, principal and superintendent of public schools.
Military:
1939-1943 Infantry ROTC Iowa U.

June-November 1943, OCS Infantry School and Jump School, Ft. Benning.

November 1943--November 1945, 517th PIR.
517th Assignments:
November--December 1943, Assistant Platoon leader, 3rd Platoon G Co.

January--March 1944, Acting S-2 (Intelligence), 3rd Bn., Tennessee Maneuvers.

March--15 Aug. 1944, Assistant Leader Machine gun Platoon, Hq. Co. 3rd Bn.

15 Aug.1944–February 1945 (Bergstein), S-2 (Intelligence) 3rd Bn.

Feb.–Nov. 1945, S-3 (Plans, Operations & Training) 3rd Bn.

November 1945–September 1973, Iowa National Guard and Army Reserves

HQ Co. 3rd Battalion Officers
Huertgen Forest, January 1945

Standing: Lt Col Forest Paxton, Major Robert McMahon, Capt Grant Hooper,

bottom Lt. Dick Spencer, Lt. Howard Hensleigh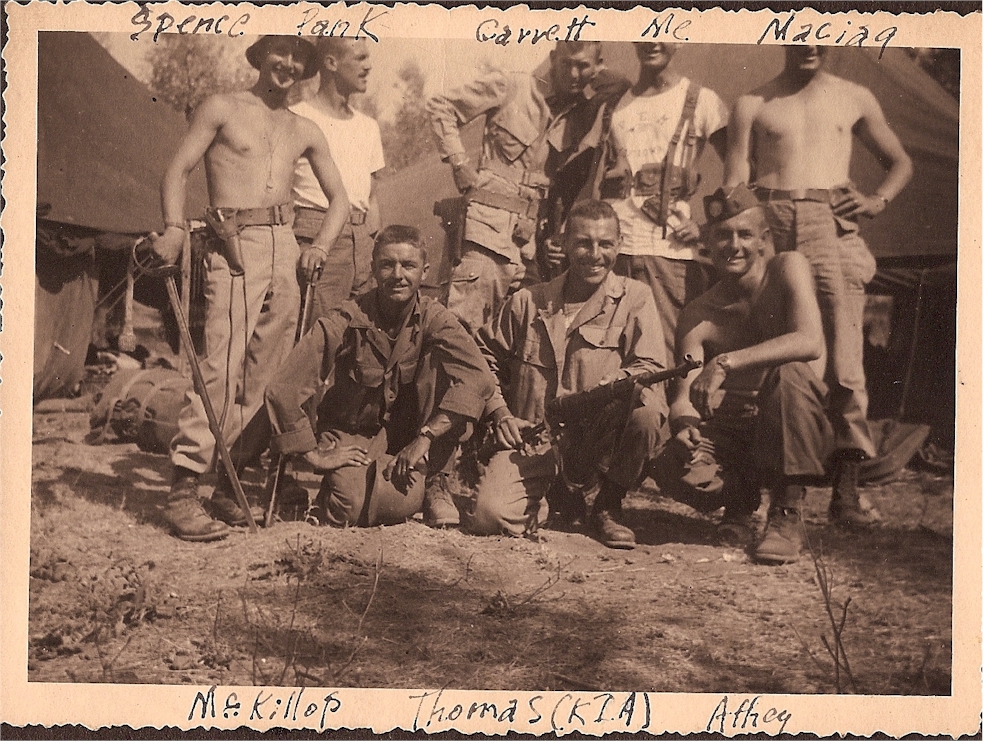 Back row: Lt. Dick Spencer, Lt. Irving Pinkston, Lt. O.G. Garrett, Lt. Howard Hensleigh, Lt. Steve Maciag
1st row: Lt. McKillop, Lt. Hilliard B. Thomas ( KIA Col De Braus), Lt. Edward Athey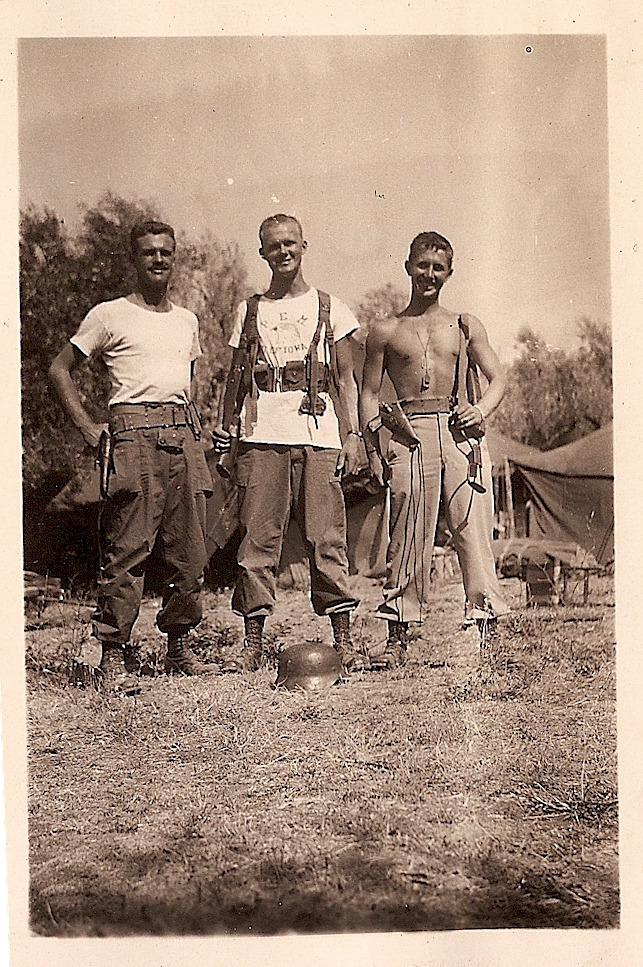 Irv Pinkston, Howard Hensleigh, and Dick Spencer
Notice the Iowa PEM (Physical Education) shirt on Howard
Civilian:
1946–1947, Iowa Law School

1947–1954, General Law Practice, Marshalltown and Traer, Iowa.

1954–1955, International Law Studies, Columbia University.

1955–1967, Office of General Counsel, Office of Secretary of Defense, including two years (1958–1960) in Paris as Legal Advisor, US Mission to NATO.

1967–1968, Deputy Assistant to Secretary of Treasury.

1968–1991, Office of General Counsel, Raytheon Company.
-- to be continued --
Ben: Consider this a draft. Howard H.