517th Parachute Regimental Combat Team

Regimental Hq - Demo Platoon

Major John "Boom Boom" Alicki

January 12, 1917 - April 30, 2008
---
Obituary - April 30, 2008

John Aloysious Alicki, age 91, of Roberts Lane, Lenoir, NC, died Wednesday, April 30, 2008 at Caldwell Hospice and Palliative Care. He was born January 12, 1917 in Lackawanna County, Scranton, PA to the late Alexander Lawrence and Anna Wrobleska Alicki. In addition to his parents, he was preceded in death by two brothers, Anthony Michael Alicki of Chico, CA and Stanley Alicki of Brooklyn, NY; and one sister Anne Kuezinski of Baltimore, MD.

Mr. Alicki was a retired Major of the United States Army and a personnel executive for Hammary Furniture, U.S. Industries Incorporated. He was a member of First Baptist Church of Lenoir and was a volunteer with Caldwell Hospice and Palliative Care for 18 years.

He was a highly decorated U.S. Army Airborne paratrooper and veteran of Pearl Harbor, World War II and Korean War.

Survivors include his wife, Mrs. Georgia Sullivan Alicki of the home; one daughter, Mrs. Alicia A. Burin and husband Michael Thomas Burin of Aurora, Ohio; one grandson, Michael Andrew Burin of Aurora, Ohio; and two nieces and one nephew of Brooklyn, NY.

A memorial service and interment with honors will be conducted at a later date, at Arlington National Cemetery, Arlington, VA. There will be no local services.

Memorial contributions may be made to: Caldwell Hospice and Palliative Care, 902 Kirkwood St., Lenoir, NC 28645 or First Baptist Church, 304 Main St., NW, Lenoir, NC 28645.

Online condolences may be left at

www.greer-mcelveenfuneralhome.com.

Greer-McElveen Funeral Home and Crematory is in charge of arrangements.
---
They were the first of many. Through the Spring of 1943 trains arrived at Toccoa daily with contingents of from 50 to 150 men. Each group was met at the station and trucked to the parade ground where a 34 foot tall parachute "mock tower" had been erected. Lieutenant John Alicki, favored by fortune with a rugged appearance, greeted them with a blood-and-guts speech intended to scare off the timorous.

"Awright, ya volunteered for parachute duty, now's your chance to prove ya meant it!" Still in civilian clothing, each man climbed the tower, was strapped into a parachute harness, and tapped on the rump. Most made it. Those who did not were immediately headed elsewhere.

- from Paratroopers' Odyssey
---
"What I learned from that jump"
by John Alicki, Regimental Headquarters
All these years no one ever asked me what happened.
My thanks to Monte Schroeder and Lamar Davis for tracing the whereabouts of Jim Hewitt who was my partner in the daring jump from the 34 foot "Mock Tower".
Unfortunately, since Jim passed away in August 1992, I know that his spirit will assist me in telling the untold daring Mock Tower jump episode in Toccoa.
In the Spring of 1943, as you recall, we were in the process of forming the best parachute fighting force ever under the leadership of "Cockatoo" Lou Walsh.
As one of the original cadres, my job was to greet the incoming parachute volunteers, give an impromptu challenging and motivating talk, help screen the undesirables, interview and escort them to the towering 34 foot Mock Tower.
It was at the Mock Tower that the saga of the Big Jump began. We were very busy all day with about 150 volunteers, and this was the last group to be tested for the day. Jim and I were up on the Mock Tower. His job, to put on the harness and hook up the volunteer. My job, to observe the reaction of each volunteer when given the Command to 'Stand in the door' and 'Go' signal.
We successfully completed the last group without any failures. This left both of us still on top of the Mock Tower.
Now a word about Jim Hewitt. Jim was recently recruited from the Parachute School for eventual assignment to the Third Battalion. He was intelligent, well built, proficient in Parachute physical training and operations. He was only temporarily attached to the In and Out Platoon.
Back to the Mock Tower. Normally when two were up on the tower, one could climb down the ladder and the other would harness up and jump out of the mock tower, and upon landing tie the harness to the pole.
I was about to climb down the ladder when Jim mentioned that while he was at the Parachute School, some of the instructors to the Mock Tower jumped together to keep the other from climbing down the ladder. I then said, "Let's try it. If this was done at the parachute school why not here at Toccoa".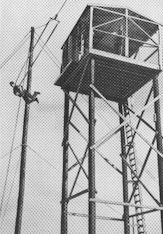 He agreed, and prepared the harness in a loop which was placed around our rumps then placing my left am around his shoulder, and he with his right arm on my shoulder followed by holding the harness with my right hand, and he the harness with his left hand.
In that position we jumped simultaneously. The going down was okay only to a point. We underestimated the power of the cable. At the point of the final downward lunge of two bodies, the cable reacted like a huge recoiled spring which suddenly was released, catapulting both of us up into the air. We separated and scattered by the force of the cable. Jim going one direction, I another direction, and feeling like the man of the Flying trapeze but without the trapeze.
The last thing I remembered was looking up with the ground suddenly and swiftly coming at me. Then a big flash, lots of stars bursting, then blackout. At that split moment my reflexes automatically responded to the sudden impact of the hard ground by rolling my body with the fall thus alleviating any serious injury.
Both of us were momentarily knocked out, but due to our excellent physical condition and training, came to our senses and stood up on our feet.
About the time when all this was happening, the last group of volunteers were still in the mock tower area and apparently saw what happened. I can still visualize their eyes lit up in amazement, wondering what daring nuts these paratroopers were to hit the ground so hard and still be able to get back on their feet.
Little did they know both of us were hurting. Every bone in our bodies ached.
By this time someone on the ground got the medics and transportation to take Jim and me to the Clinic. I hurt so bad and refused to ride and walked instead.
Major Vella examined both of us, gave each an injection of morphine and arranged to send both or us for further observation to the city of Toccoa hospital. At the hospital, after being examined thoroughly, I was told nothing was wrong and could be released the next day after a good rest. However because it rained the following day, I was confined for another day as an added precaution.
While in the hospital I inquired about the status of Jim's injury only to receive vague answers.
After my release from the hospital, I lost contact with Jim. Later, I heard along the grapevine that Jim hurt his back.
Years later, while we were preparing publication of Paratroopers Odyssey in 1985, Clark Archer gave me Jim's Toccoa telephone number. Since then we kept in touch until his mail was returned to me with "No Forwarding Address".
So much for this past daring stunt, and hopefully may dispel any exaggerated assumptions that might have existed these past [fifty-nine] years. Also after this Toccoa episode, there were no more double exits from the Mock Tower at the Parachute School.
In closing, there was an investigation and reprimand for attempting the risky stunt.
John Alicki - 2002
---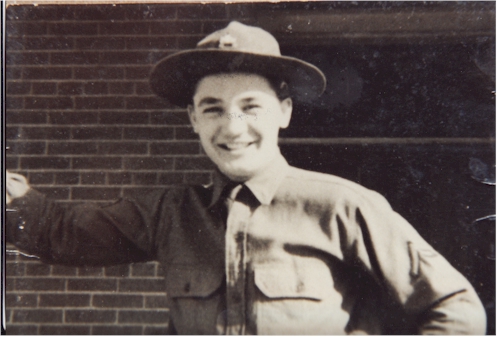 Pvt. John Alicki
Company A, 8th US Cavalry
1st Cavalry Division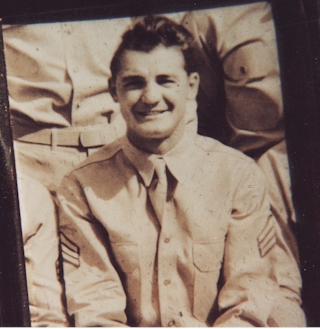 Sgt, John Alicki, Hawaiian Islands, 1940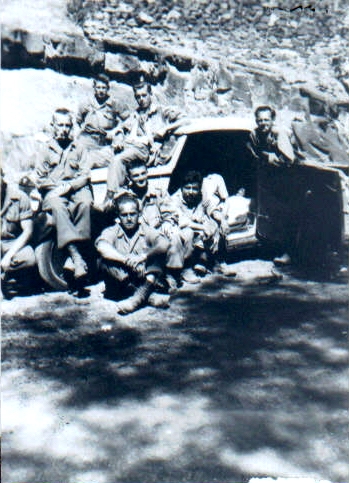 Demo Platoon after jump into So. France, 1944
Front L to R: Peter Sturgeon, J.P. Jones, John Alicki and Herman Glenetske
Sitting on hood: Peter Christensen Back: Paul T. Allison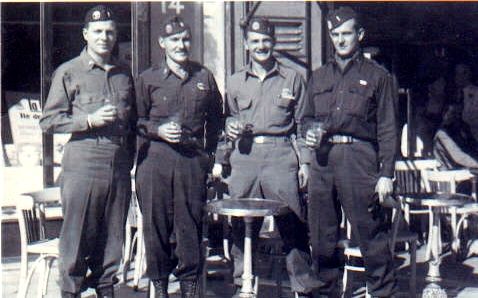 Paris 1944
L to R: Lt. Woodhull, Major Paxton, Lt. Alicki and Lt. Dickerson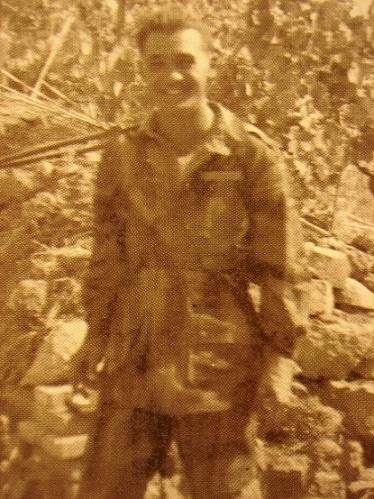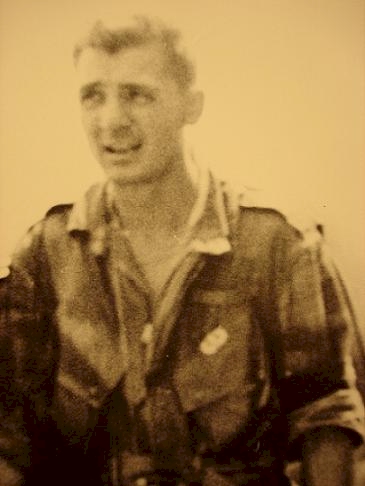 Southern France 1943-1944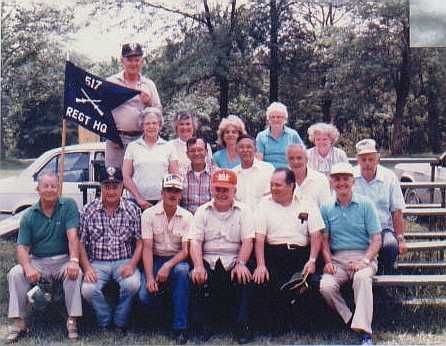 Regimental Hq. 517 mini reunion 1984 Ft. Campbell, Ky.
Front row second from left is Lee Hulett, man in red cap is James B. Bryant and Boom Boom on extreme right with Peter Christensen behind his left shoulder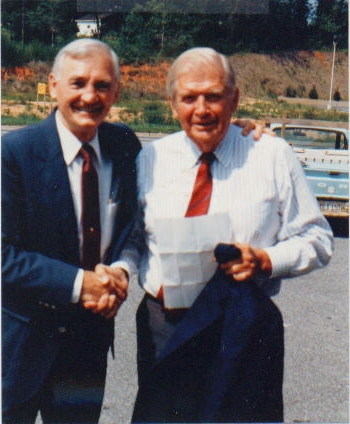 John Alicki and Terry Sanford