Leroy "Lee" R. Johnson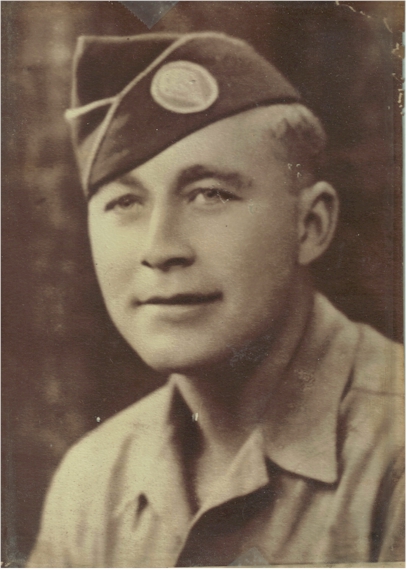 Service Company
It all started on 10 October 1919! I was born in Detroit, Michigan and I'm still wondering where the time went. When the Great Depression hit, I was 10 years old and I remember how devastating it was for everyone, especially the kids. Most kids had nothing and that meant very little food. We survived because my Dad was a resourceful man. He was in the import and sales business – an early entrepreneur you might say. He imported a form of liquid from Canada and sold it in Detroit. Later in his career, he owned a bar in Detroit and we managed to survive the Depression. I attended an elementary school in Detroit and in high school I played foot ball. I wasn't the biggest kid on the team, but I learned how to take and give some pretty solid hits.

After high school (1939-1940) I worked for Detroit-Toledo Ironton Railroad. I worked in the Ford Admin building where I checked railroad car way bills, train routes, and which cars made up which trains. My draft number came up when I was 21, and my railroad career quickly ended. My actual induction date is 19 June 1941 – just 6 months before the attack on Pearl Harbor.

I reported to Camp Grant, Illinois which was the reception station and I was there for just 24 hours. From there I went to Camp Wolters, Texas for 13 weeks of training on operation, maintenance and care of heavy weapons. In those days, heavy weapons were the 81mm mortar, the .50 Cal machine gun, and the .30 Cal water cooled machine gun.

After Camp Wolters, I was assigned to D Company, 1st Infantry Regiment, 6th Division at Fort Leonard Wood, Missouri. There we trained and it seems like we were on maneuvers all the time. In hindsight that was good for all of us Privates because a couple of years later, we got to put that training to good use in France, Belgium and Germany.

Some of our training was in the Mojave Desert and again, it seemed like we were on maneuvers day and night. I left Camp San Luis Obispo in March 1943 and reported to Fort Benning for jump school and rigger training. Jump school wasn't easy, but at age 23 and just having been through very tough Infantry training, I completed the Airborne training; made my 5 jumps and proudly wore my parachutist wings.

After rigger school, I was sent to Camp Mackall, North Carolina and was assigned to the 517th Parachute Infantry Regimental Combat Team. The 517th was part of the 17th Airborne Division and it consisted of the 460th Parachute Field Artillery Battalion and the 596th Parachute Combat Engineer Company. Again we trained continually but this time we were training in terrain that more resembled Western Europe. There was no doubt where the 517th was going to be deployed.

In May 1943, we received orders to report to the steamship Santa Rosa at Camp Patrick Henry which was near Newport News, VA. The Santa Rosa was an ocean liner belonging to the Cunard Ship Line – not a bad way to cross the Atlantic except all of knew we had to get past the German U Boats. Other passengers on the Santa Rosa were 300 WACS and some Air Force officers. One Lieutenant thought he would go visit the WACS, but a very stubborn Army sergeant firmly informed him that wouldn't be possible.

We arrived in Naples, Italy and awaited orders for combat. We waited for about 10 days because our heavy equipment was on other ships and we had to wait for it to arrive. After getting our heavy equipment, we were assigned to combat north of Rome. At Camp Mackall, I was promoted to T5, and once we got to Italy, I was promoted to T4. Captain Freud put me in the rigger section and assigned me to in charge of distributing rations. I got to know the roads pretty well in that part of Italy. Soon after that, eighteen of us riggers learned about the plans for an upcoming jump and we volunteered to participate on the jump scheduled for 15 August 1944.

As we were preparing for the jump, Colonel Graves was supposed to report to the 7th Army Provost Marshall to explain why we had so many excess vehicles in the 517th. I'm not saying we "midnight requisitioned" vehicles but somehow they just mysteriously appeared in our motor pool. Luckily for Colonel Graves, the meeting with the Provost Marshall was scheduled for 15 August and Colonel Graves was too busy that day to meet with the PM.

In preparation for the jump, we assembled north of Rome where there were many small dirt airstrips. It was so dry that the dust from the first airplanes obscured the runways and some of the pilots had to use their compasses to stay lined up with the runways for take off. Somehow we were in the air and there were no aircraft accidents. I remember that we were well prepared for this assault. Most of us carried the M-1 which was broken down into 2 pieces and carried in the weapon's container. We also had 2 bandoleers of ammo, a cartridge belt and hand grenades. We were entering combat that morning as light infantrymen. We took off at about 10:30 or 11:00 pm and I was on the last plane which was the 3rd Battalion serial.

We jumped at about 4:30 in the morning and because of the heavy air with overcast, I had a soft landing. I was 9th or 10th man out the door and I think the jump altitude was about 600 feet. Some of the planes took ground fire, but none were shot down. I landed between 4 small fruit trees and immediately assembled my M-1. At daybreak, several of us located a sign that telling us we were 32km from Le Muy so we knew where we were. Later that day, there was a firefight with a German unit and 22 of them surrendered. We turned these prisoners over to the Free French in the area and we never heard anything about them again. We didn't have any casualties from this fire fight, but they did. One of their officers pulled out a map and told us we weren't supposed to be there – he said we were supposed to be in Le Muy.

As we were getting ready to move to LeMuy, there were 4 Second Lieutenants who were arguing about who had date of rank seniority. An OSS Major and a Master Sergeant came out of the woods and the Major told the lieutenants he didn't care who had date of rank – just to get these men on the road to Le Muy where they were supposed to be. That settled that argument.

That troop movement to Le Muy consisted of 3rd Battalion Headquarters and I Company soldiers along with 30 or 40 Brits and the 18 riggers. The Brits were the rear guard and they noticed that some German trucks started following us. Along the road, we passed a huge rock that was about 20 feet high and one of the Brits climbed up the rock and dropped a land mine or some other explosive on the lead truck. The other 2 trucks retreated towards Draguignan and that was the last we saw of the German trucks.

We proceeded towards Le Muy and on D+2 we started receiving aerial delivery of rations and supplies. The planes dropped the bundles very close to our target panels but they were scattered around a farmer's field. I hitched a horse to a cart and went around picking up the bundles while others posted security. The horse was about 18 hands tall and farmer was yelling at us because he thought we were stealing his horse. I had to stand on a ladder to get the harness on that horse. When we finished picking up the bundles, we returned the horse and cart to the farmer. He was very thankful and he gave us two bottles of wine.

In September when the line troops were in the mountains, Service Company sent me to the message center and I was detailed to distribute messages. Another soldier and I were message couriers and we worked 24 hours on, and 24 hours off. That's how I got to Nice and I enjoyed my 24 hours off duty several times.

Most of my courier driving was in the mountains where the roads were narrow and there were steep drop offs – it got a little scary when I had to drive close to the edge of the road because the road could easily give-way. In Detroit, there were no narrow hair-pin mountain roads to learn to drive on so I had to learn this under fire. Most of the roads had been bombed, mined or there were craters at every turn. Because of the damage to the narrow twisting roads, some trucks weren't able to pass easily. I learned later that the 596th Parachute Engineer Company repaired some of these roads which allowed vehicles to pass safely.

I always had a runner with me and he carried the classified paperwork. We both had our M-1's and he looked out for me, and I looked out for him when the German artillery came close. Both of us spent time diving in the ditches and waiting for the artillery and mortar attacks to end. Neither of us had any combat injuries and we managed to dodge the incoming fire. At this time, my unit (Service Company) was positioned at the base of the Maritime Alps near the village of L'Eescarene (Luceram?) and my runner and I spent a lot of time on the mountain roads delivering messages and grabbing sleep and meals when we could. We were supposed to be 24 on and 24 off, but that didn't always happen. Many times I slept in the driver's seat of my jeep and that's mainly because I didn't want my jeep stolen.... excuse me, "borrowed."

We were relieved just after Thanksgiving Day following 94 continuous days in combat. We also received 500 replacements along with orders to move North. It was on 1 December 1944, that the 517th was assigned to the XVIII Airborne Corps (ABC) and directed to move to Soissons. The 1st Special Services forces was disbanded with this reassignment to the XVIII ABC. I drove my jeep up the Rhone Valley but most of the unit were transported on a train. Those guys didn't see the damaged and destroyed bridges compliments of the Army Air Corps because they were riding in what we'd call cattle cars. Along the road were hundreds of damaged German vehicles damaged by Allied bombs and strafing. These vehicles were just pushed to the side or off of the road allowing us to pass.

It was kind of funny to see what happened at train stops. The French railroad workers had to change crews from time to time, and that was the only time the trains stopped. There were no latrines on the cattle cars so when the trains stopped, it was a mad rush to find a latrine or a suitable place to call a latrine. The train would start moving again without notice, and the GI's would have to scramble (run) to catch the train. I think they all made it.

On 4 December we were located in Menton which is north of Nice and Cannes. At that time, these towns weren't vacation resorts and it was cold, wet, and essentially a miserable place to be. Some paratroopers managed to find local "company" but that was short lived. The reality of war wasn't far from our thoughts. We knew we'd get orders to move north most likely into Belgium and later into Germany. Sure enough, on 17 December we received orders to move to Belgium starting on 22 December. The weather could not have been worse – we were in riding open cattle cars in the cold, sleet, freezing rain and we were all soaked.

We stopped in Namur, Belgium so the commanders could receive assignment orders. The 1st Battalion was attached to the 3rd Armored Division in the Soy-Hotton area of operations and we spend 22, 23, and 24 December working with the 3rd Armored Division. It was here that the actions of the 1st Battalion, 517th PRCT warranted the award of the Presidential Unit Citation. It also was the location of the heroic actions of PFC Melvin E. Biddle who during the battle of Soy-Hotton that earned him the Medal of Honor. PFC Biddle's Medal of Honor citation is available at the Mail Call site.

After Soy-Hotton, we moved on to the Bulge. Somewhere along a forgotten Belgium road I lost my jeep – actually, my jeep was a casualty of German artillery fire, but my runner and I had jumped into a deep ditch and again, we dodged a big bullet. We did a lot of driving at that time since the roads were too wet and muddy for motorcycle couriers. My runner from the Engineer Company (sorry I can't recall his name) and I were asked if we wanted relief, but we both declined. It was much more exciting to be on the road than in a foxhole. Somewhere along the way, we came across a destroyed tank. I looked inside and found a pair of tanker pants that came in handy and another handy item I found was a Thompson sub-machine gun which I carried along with my .45 and M-1.

There was a lot of stationary fighting near St Vith and Manhay. By that I mean neither side gained ground for any length of time – kind of a stalemate. My runner and I had several close scrapes but we got out of them OK. Every day we were doing something new – there was very little "down time." We were either delivering messages or transporting wounded from aid stations to hospitals. It was miserably cold, and some guys had to urinate on the trigger group to get their M-1 to fire. When we did get a break, all I wanted to do was sleep.

Once we moved into Germany, we located our CP near the villages of Schmidt and Bergstein. This area is recorded as being the heaviest mined of any German defensive position. It took a long time for safe passages to be located and that was the job of the 7th and 596th Engineers. Unfortunately, the Germans were watching the mine clearing operations and they made those cleared lanes "targets of opportunity." We lost a lot of troops in this area. The Regiment saw some of the worst fighting that war can present. At one place there was a big swamp – it was a terrible situation. General Gavin said he'd never seen anything as bad. There were cadavers everywhere – some our boys, mostly theirs. When we attacked, we shot artillery into the villages where the Germans were and when we occupied the villages the Germans shelled us in the same villages. There was nothing left standing in most villages that we saw. Fortunately, the civilians had all evacuated the villages and no more casualties resulted from the shelling.

We pulled out of that area on 13 August and we were no longer in the 517th. I was assigned to parachute maintenance with the Maintenance Company of the 13th Airborne. When the point system was announced I had 84 points, but you needed 85 points to go home. With 84 points, I was sent to the 101st Airborne Division. Later after I received paperwork for the Bronze Star, my points went to 92. The Bronze Star was issued by the 517th, but somehow it was delayed by the 13th, and I finally received it on 25 November 1945 at Camp Attabury.


Throughout the campaigns – Italy, France, Belgium and Germany, I was always assigned to Service Company along with the other riggers. We were a small outfit and we were all good friends. I remember Marvin Winston who was also from Detroit. He called me Uncle and that's probably because I was 24 years old and older than most GI's. Ed Inman also was a good friend – he was from Westland, Michigan. John Gogoleski was 18 years old and he was from someplace near Detroit. There were lots of GI's from Michigan and a few from California. Most were about 18 years old – just kids but they grew up fast and they did what needed to be done.

After serving 4 years, 5 months, 23 days, and 55 minutes, I was discharged and I returned to Detroit. After my Army service I went to work for Borg-Warmer in Sterling Heights, Illinois. Later after retiring, I lived for a while in Las Vegas. My wife Doreen and I now live in New Smyrna Beach, Florida where I can hang out with other Veterans for coffee in the mornings and I can attend the reunions in Kissimmee . I have attended numerous 517th Reunions, and I hope to attend many more. My sincere thanks to all those who work so hard to make these reunions possible.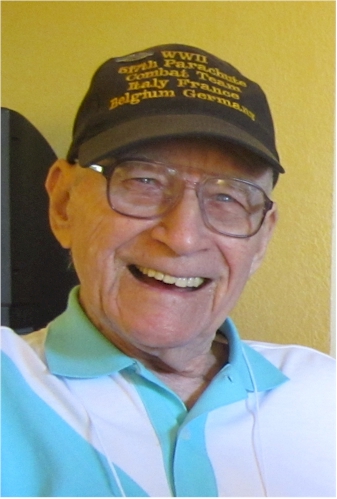 Received from Lee Johnson via Col. Earl Tingle
April 2013
---