Attached are photos of my great grandfather Leo Balestrini, 460th Battery A.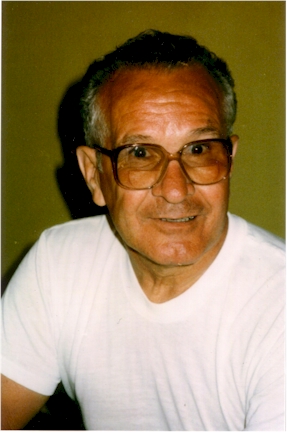 He didnít talk much about the war, at least not to me. Thank you for maintaining a wealth of information, otherwise I probably would have never known the roll that ĎPapí played in the war. Also attached is his obituary copied from the Sunbury Daily Item (7/20/2005).
---
Sunbury Daily Item 7-20-2005 //SUNBURY - Leo Balestrini, 80, of RR2 Sunbury, passed away at 8:10 p.m. Monday, July 18, 2005, at Geisinger Medical Center, Danville.
He was born Aug. 18, 1924, in Keystone, Plains Township, Pa., a son of the late Enrico and Filomena Toni Balestrini. He was raised at the Oddfellows Orphanage on Snydertown Road, Sunbury, from the age of five. He married the former Dorothy I. Saxton, who survives.
Leo was a 1943 graduate of Sunbury High School, where he was a star running back for the football team. Known as "Lightning Leo," he was a running quarterback and selected to the All State Football Team. After graduation, he played semi-pro football with the Shamokin Indians.
A veteran of World War II, Mr. Balestrini served in the European Theater in Italy and France. He served in Battery A, 460th Parachute Field Artillery Battalion, with Gen. Patton's Army in the Battle of the Bulge. He was involved in the relief of Bastogne.
Leo was employed as a brakeman for Conrail, retiring in 1984 with 30 years of service.
He was a member of Trinity Lutheran Church, Sunbury.
Mr. Balestrini was also a member of Oddfellows Lodge 96, Lewisburg, and a life member of Americus Hose Company, Sunbury; Sunbury Social Club; Loyal Order of Moose Lodge 1173, Selinsgrove; Veterans of Foreign Wars Post 8298, Sunbury; Retired Railroad Lodge 997; and the National Rifle Association.
Surviving, in addition to his wife of 64 years, Dorothy, are two sons and daughters-in-law, Leo Rick and Linda of Stewartstown and Terry G. and Jean of RR2 Sunbury; two daughters and one son-in-law, Judy A. and Chip Kleinbauer of Baltimore and Marilyn J. Slough and companion Bill Carr of Sunbury; 10 grandchildren; 16 great-grandchildren; one brother, Peter Costellani of Norwalk, Conn.; and four sisters, Lucy Tindal of Jacksonville, Fla., Josephine Young of Fairfield, Conn., Marietta Schembari of Milford, Conn., and Ida Fiachetti of Virginia.
He was preceded in death by one grandson, Benjamin Slough; one son-in-law, Bart Slough; two sisters, Jean Balestrini, who was the twin sister of Ida Fiachetti, and Susan Pascutti; and three brothers, Peter, Joseph and Angelo Balestrini.
---
received Oct 2009,
from David McNew