D. Leo Turco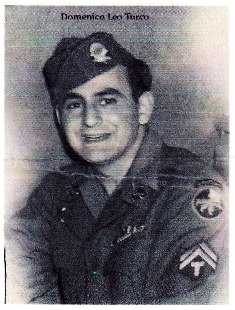 A Battery, 460th Parachute Field Artillery Battalion
D. LEO TURCO, born Domenico LoTurco, Sept. 26, 1920, in Rochester, NY. After graduation from Edison Technical High School in June 1940, he enlisted in the regular Army July 30, 1940. The Army in error changed his name to Domenico Leo Turco, thus his nickname became Leo Turco.
His first assignment was in the 5th Field Arty. of the lst Div. at Madison Barracks, NY and later to Ft. Devens, MA until1941 when he was assigned to the Corp Area Service Unit at Camp Edwards, MA until1942 whereon that same year he applied for parachute training and was sent in July 1942, qualified as a paratrooper Sept. 5, 1942, in class #32 at Ft. Benning, GA.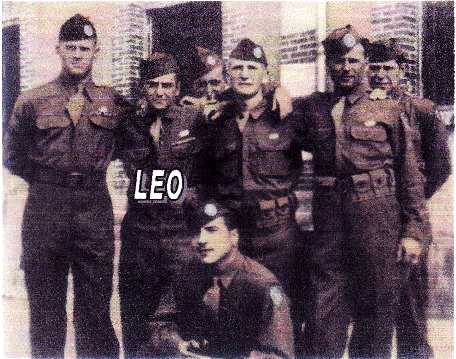 His first assignment from Parachute School was A Btry., 376th Prcht. Field Arty. Bn. of the 82nd Abn. Div. He was subsequently assigned at a later date to A Btry., 377th Prcht. Field Arty. Bn. of the 101st Abn. Div. as a corporal in wire communications at Ft. Bragg, NC. A cadre was formed out of the 377th, 101st to form the nucleus of the 460th Prcht. Field Arty. of the17th Abn. as field wire sergeant. After the Tennessee maneuvers the 517th PRCT was formed from a regiment of infantry (517th), a battalion of artillery (460th), and a company of engineers (596th), out of the 139th Engr. Bn., and in May 1944 they were sent to Naples, Italy. He participated in five campaigns in Europe and parachuted in the invasion of Southern France, Aug. 15, 1944.
After the war he went to school at Biarritz American University majoring in engineering. Returned to the States and was discharged Sept. 23, 1945.
He married Joyce Newell from Holden, MA in 1942. They had one son and three daughters, two grandsons and three granddaughters. He worked for nine years in Worcester, MA after the war then returned to Rochester, NY in 1953 and retired from General Motors Corporation after 30 plus years, June 1983. They moved to Murrells Inlet, in the Myrtle Beach, SC area for retirement, November 1983.
Leo died May 10, 2005 and his son Gary died September 13, 2005.
Received from Joyce Turco
March 2013