460th Parachute Field Artillery Battalion

and 463rd Field Artillery Battalion

Merle W. McMorrow
Pre-Military Service
I was born April 22, 1923 in Hankinson, North Dakota. My parents moved to Breckenridge, Minnesota and I remained there until completion of high school in 1941. During my junior year I played on a basketball team that won the 1940 Minnesota State High School Basketball Tournament.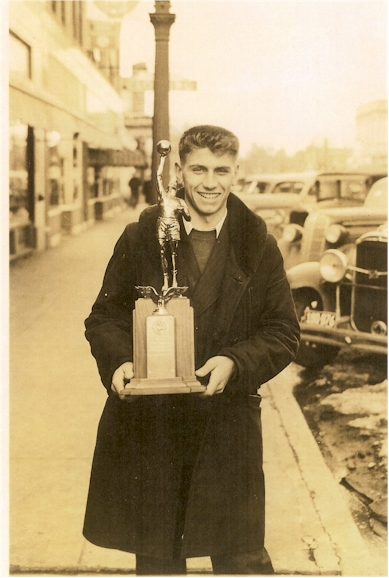 Merle was captain of the basketball team that won the 1940 Minnesota State High School Championship.
I took sheetmetal training with the National Youth Administration in late 1941 and in early 1942 I reported to the Puget Sound Navy Yard in Bremerton, Washington. I worked on the repair of ships damaged at Pearl Harbor and was also involved in the construction of "baby flattops" used as escort vessels for supply and troop ships. I returned to Minnesota in December 1942 to enlist in the Army Air Corps. However, the Air Corps closed all enlistments before I was able to obtain a draft release from my draft board in Bremerton. I then volunteered for the US Army Paratroops in March 1943 at Ft. Snelling, Minnesota. I was sent to Toccoa, Georgia for assignment to a unit within the 17th Airborne Division that was being activated at the time. This Division would be made up of paratroopers and glider troopers and would have a total of approximately 12,000 men. Because of some survey work I did with the Wilkin County Highway Department during my summer months in high school I was assigned to the 460 Field Artillery Battalion and given a 6400 mil-aiming circle for use in registering the artillery pieces.
Camp Mackall, North Carolina
The 460th spent 16 weeks of basic training at Mackall and was then shipped to Ft. Benning Georgia for 3 weeks of Jump school early in September. I graduated from jump school having completed my 5th jump on September 18. 1943. I purchased a dozen pair of wings and sent a set to every girl I knew including my girlfriend. She was still in high school. I thought it would assure me that my name would be called at every Mail Call. There were also some unexpected undesirable side effects. A year later this high school girlfriend walked into a restaurant in Seattle and saw another girl wearing a set of paratrooper wings. "I see", she said, "you have a boyfriend in the paratroops". " Yes" she replied, "he's at Camp Mackall, North Carolina". "So is my boyfriend", my girlfriend enthusiastically responded. They then began exchanging names and the name Merle Mc Morrow seemed to fit both pair of wings. I was happy I wasn't there. I got a nice Dear John Letter shortly after arriving in Italy.

We returned to Mackall and continued with training and field exercises. I was given a 10-day furlough of which 6 days were used as travel time. While home I came close to being charged with murder. I came out of church Sunday morning wearing my jump boots glistening with 30 coats of polish. A little old lady of about 40 years of age asked, "You mean to tell me the Army makes you boys wear those old work shoes home on furlough". Looks do not kill.

The 17th Airborne Division was moved to Tennessee in February 1944 for maneuvers to determine if the Division was combat ready. However, before accomplishing that task all paratroopers were pulled out of the Division and the 517th Regimental Combat Team was formed.

"I had been at Camp Mackall for 2 days and noted that none of the batteries were up to full strength. As a result, everyone caught KP quite often. The 3rd day in camp was my birthday. Bill Westbrook rattled my bunk at 0430 and told me I was due on KP. I told him that there must be some mistake as it was my birthday. He retorted, 'I don't give a damn if its Roosevelt 's birthday, you 're on KP'."

MM
Italy
We were scheduled to provide replacements for the heavy losses taking place at Anzio, Italy. The 517th PRCT sailed from Hampton Roads, Virginia aboard the USATS Cristobol and Grace Liner Santa Rosa. The Allied Forces broke out of the stalemate at Anzio a week before our arrival and we landed at Naples on May 31,1944. The Combat Team experienced its first combat on June 18th. Early in July it went into reserve with the IV Corps of the Fifth Army. During this period I was placed in a hospital in Rome and after discharge I was sent to the Mussolini Forum. It was an R & R Center set up by the Army. Had the war not come along it would have been the site of the 1944 Olympic Village. While at the Center I met Captain Walter Mikulich, my high school basketball coach. He pulled a set of 1st Lt. Bars out of his pocket and I became an instant Officer and Gentleman. We hit all the Officers' Clubs for a week and during that week I lost some of my military courtesy. I almost forgot to salute my commanding officer Capt. Louis Vogel after returning to my outfit. The Unit remained in Italy until August 14,1944 near the city of Frascati located about 10 miles southeast of Rome.
Southern France
The 517th PRCT parachuted into southern France around the small cities of Le Muy and Draguignan at 0430 on August 15, 1944. The Unit was a part of the First Airborne Task Force and its mission was to prevent Axis Forces from bringing reinforcements in to oppose the Allied Forces coming in to the beaches of southern France by landing craft. After the seaborne forces were ashore and moving north up the Rhone River Valley we were to protect the main force's right flank. Some called our mission in the south of France the Champagne Campaign. We were given three-day passes frequently to spend time in Nice. The Army had obtained the winter home of King Leopold of Belgium for our battalion's use when on leave. A dance had been arranged and local girls were invited. The mothers came with their girls and sat around the circumference of the large marble dance floor with a watchful eye glued on their daughters. Around 11 o'clock a lone German plane came over the city and all lights went out. When they came on 20 minutes later the mothers were still sitting there but most of the girls and their partners were gone. That was the last dance we were able to arrange.
The mission of the First Airborne Task Force was completed by the end of November and was deactivated. I had been transferred into the 463rd Field Artillery Battalion. And the Battalion was scheduled for shipment to northern France.
Northern France and Belgium
Our Battalion arrived at Mourmelon le Grand, France on December 12, 1944. We believed we were to spend the winter there. It was thought that the war might be over by Christmas. On December 16th the Germans launched an attack through the Ardennes area which, because of their penetration, became known to the Americans as the "Battle of the Bulge". Since the 463rd was a separate battalion and unattached to any larger unit, our Colonel John Cooper volunteered the battalion and we became attached to the 101st Airborne Division in support of the 327th Glider Infantry Regiment. We were moved into Bastogne on December 19th and remained in that general location until January 25, 1945. The Division was then moved to the Alsace area of France under 7th Army control. We remained there until the end of February and then returned to Mourmelon. General Eisenhower presented the Division with the Presidential Unit Citation.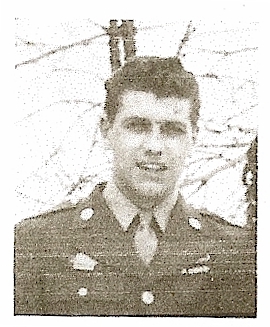 Germany
On April 1, 1945 we were moved to Neuss area on the Rhine River across from Duesseldorf. My primary duty for the next two weeks consisted of trying to locate the site of a large 240-mm German Railroad gun. This was done by spending the nighttime hours in a tall elevator on the band of the Rhine River across from Duesseldorf. By taking an azimuth to the flash of the gun and using a stopwatch to time the period between the flash and the report of the gun, the data was used to plot the gun's approximate location on a map. Using this information the Air Corps would attempt each day to locate the gun's position. After capture of the area it was found that the gun retreated into a tunnel during the daylight hours. The Ruhr Pocket was being surrounded. All resistance ceased on April 18th and hundreds of thousands of enemy personnel surrendered. We were then ordered south toward Bavaria where it was believed the Germans would make a final stand in what was designated as the National Redoubt. However we got no further than an area outside the city of Munich when all hostilities ceased on May 7, 1945. We continued on south to Berchtesgaden where we would remain until the end of June. For the next seven weeks we lived in beautiful chalets, hunted deer in the Bavarian Forests and fished trout in the icy mountain streams. The Division was then broken up with the high-point men being sent home, some being transferred to the 13th Airborne Division and some transferred to the 82nd Airborne Division for Occupation Duty in Berlin. I opted for duty in Berlin and was transferred to Hdqs Battery of the 376th Field Artillery Battalion. I remained in Berlin until the end of November.
Occupation Duty in Berlin
We left Epinal, France early in July as part of the 82nd Airborne Division and, after passing through many Russian checkpoints on the Autobahn; we arrived in the destroyed capitol of Germany. We were assigned quarters in a former SS barracks located south of Kaiser Wilhelm Memorial Church. Today it stands as one of the remaining ruins of World War II and is located at the intersection of Kurfurstendamm and Tauentzien Strasse. Our duties in Berlin consisted of guarding power facilities and other important infrastructure that remained undamaged. We also put on "shows" for visiting dignitaries. Exhibition jumps were discontinued after one man was killed and a number injured in a jump on a windy Templehof Airport. During our free time we attended football games between the regiments of the Division at the 1936 Olympic Stadium. We enjoyed USO shows with big name performers such as Bob Hope, Ingrid Bergman and Jack Benny and spent time in the black market area near the Brandenburg Gate on the Unter den Linden. All are fading memories of so long ago.
Heading Home
We left for the United States on December 3, 1945 from Camp Lucky Strike in Le Harve, France. Two days out of port we ran into a ferocious winter storm and everyone felt the ship could only last so long before the welded plates would buckle. After what seemed like eternity, our Liberty Ship USS Walter Forward luckily arrived in New York City on December 16th. We were trucked to Camp Patrick Henry for processing. Three days later we arrived at Camp Mc Coy, Wisconsin for discharge. I was discharged on December 22, 1945 after 2 years, 8 months and 15 days of military service. I was issued my $264.82 severance pay and $18.70 travel pay and then started for home arriving back in Breckenridge, Minnesota on Christmas morning. It had been an experienced filled with fears, joys, love, hate, sorrows and happiness. Never again would I experience so many different types of emotions in such a short period of time.
First 4 Years Following Discharge
I returned to the Puget Sound Navy Yard where I was employed prior to entering service and remained there until the end of May 1946. I worked for the same supervisor I had worked for during my 1942 period at the shipyard. I felt entirely different about him after he remarked; "If the war had only lasted another 6 months I could have had my house paid for."
I then went to Los Angeles and was married to my high school sweetheart Kathryn Jonietz on June 12, 1946. We returned to Minnesota where I applied for college at the University of Minnesota. However I would not be able to be accepted until some time during the following spring. I then enrolled at the North Dakota State University in Civil Engineering. By attending classes through the summers I was able to graduate in August 1949.
Merle McMorrow

North Dakota State University

Class of 1949

Engineering and Architecture
I applied for a job with the Bureau of Reclamation, an agency under the Department of the Interior. I worked on design for dams, substations, transmission lines and irrigation systems. I retired December 30, 1980.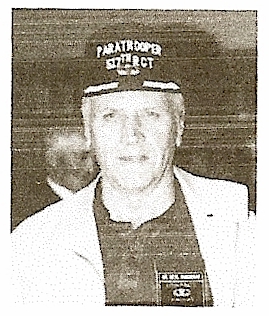 Personal Items
I have two sons who were born during the early years of our marriage. Tom was born on April 2, 1949 and lives in Wayzata, Minnesota. Mark was born on February 8, 1952 and lives here in Fargo, North Dakota. Both are university graduates and have successful businesses. Each is married. They are now at an age that I once considered old.

My wife Kay had a long series of illnesses and died on January 8, 1996 just 5 months shy of our 50th wedding anniversary. She is buried in the North Dakota Veterans Cemetery where I also will be buried in the not too distant future.

I remarried on December 8, 2001 to Margaret Chapman who was a good friend of my wife Kay and a neighbor for 45 years. We moved from Bismarck, North Dakota, where I had lived for 52 years, to Fargo, North Dakota. In 5 months (April 22, 2010) I will be 87 years old and all in all it has been a pretty good life.
---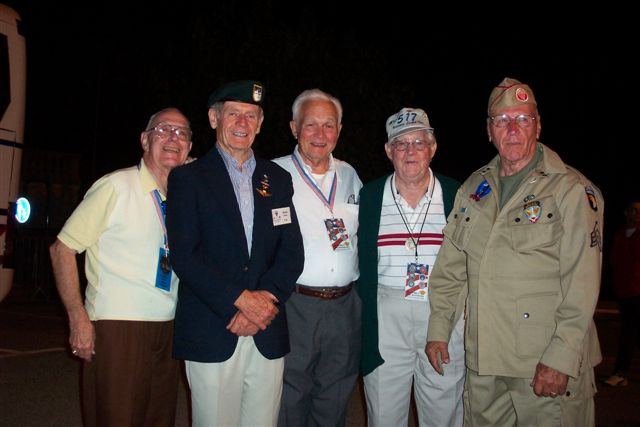 2004 Le Muy, France
---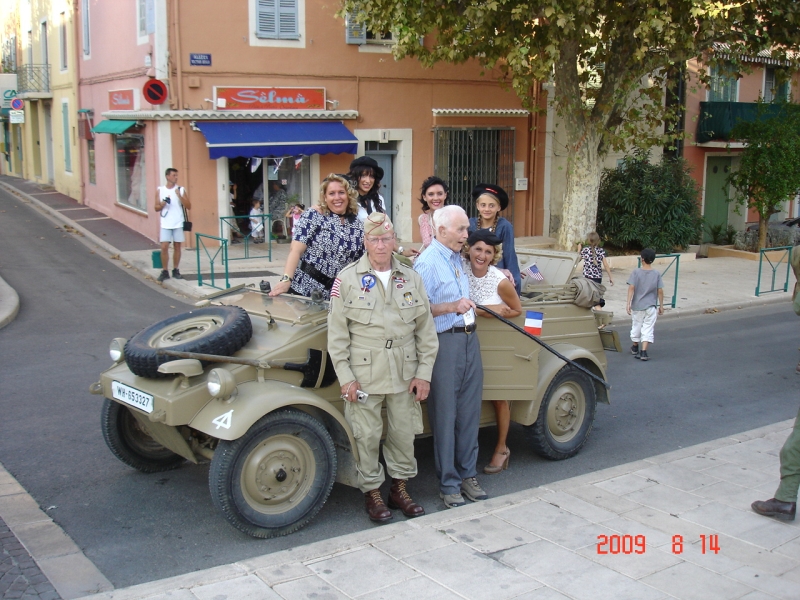 2009 - Le Muy, France
From Breckenridge to Bastogne by Merle McMorrow

Follow the real life story of WWII veteran Merle McMorrow in his own words as he goes from Breckenridge, MN to Bastogne, Belgium the site of the "Battle of the Bulge."

From Rome to Berlin via Bastogne by Merle McMorrow

In December 1942 the author attempted to enlist in the U.S. Army Air Corps. However, before he could obtain a draft release from the Draft Board in Bremerton, Washington, the Air Corps closed all enlistments on December 15, 1942.

He then volunteered for the U.S. Army Patratroops. His basic training was at Camp Mackall, North Carolina with the 17th Airborne Division. In September 1943 he was sent to Fort Benning, Georgia, for jump training. January 1944 the Division was on Tennessee maneuvers. A month later all paratroopers were pulled out of the Division and were returned to Camp Mackall. They were scheduled for shipment to Anzio, Italy. the unit was designated as the 517th parachute regimental Combat Team.

The Combat Team saw combat in Italy and on August 15, 1944 it jumped into southern France as part of the 1st Allied Airborne Task Force. The author was reassigned to the 463rd Field Artillery Battalion in October 1944. The Battalion was sent to Mourmelon, France in early December 1944 to be reassigned to the 17th Airborne coming over from England. However, before their arrival, the Battle of the Bulge began and his unit became part of the 101st Airborne Division. After the conclusion of hostilities, he was transferred to the 82nd Airborne Division for occupation duties in Berlin. He was sent home in early December and was discharged at Camp McCoy, Wisconsin on December 21, 1945. He arrived home on Christmas morning.

A Long Short Life by Merle McMorrow

In A Long Short Life, Merle W. McMorrow documents a trail of events of his own and his family's experiences from his youth into adulthood. He was born during a time of uncertainty following World War I. Both his father and mother grew up in families that put very little value on education, and therefore neither one finished high school. their marriage resulted in family difficulties due to religious differences, among other factors.

Tragedy struck the family many times, but the event that left a permanent mark on McMorrow and his family was the divorce of his parents. Those problems were followed by the deaths of some of the other family members, as well as a diagnosis of diabetes fro his father. This period of difficulties would ultimately extend through the Great Depression, World War II and the Cold War. Despite the many problems his family endured, however, they enjoyed twenty years as a close-knit family, all lovingly chronicled in A Long Short Life.