517th Parachute Regimental Combat Team

Corporal Michael A. Sura

3rd Battalion, H Company

3rd Platoon, 2nd Squad
---

Born the 5th of May 1922 in Chicago, Cook County, Illinois. Parents, Andrew, who worked for the Thomas Wilson Co for 25 years, and Stella were Polish/Russian Immigrants. Mike grew up in an area known as "The Back of the Yards". Everyone in the family, as well as the neighborhood, worked in the slaughter and packing houses on the South Side of Chicago (Reference Upton Sinclair's book "The Jungle". He was the youngest of 5 children (4 boys, 1 girl). His three brothers were fledgling barbers and each would give him lesser degrees of money for practice on his head as he moved from one to another.
Dad attended Lindblom High School and entered the CCC's shortly after. He rode the rails out West and worked building Yellowstone Park among other projects. When his father died, he returned home worked for the Armour Co. before he got his induction notice and entered into active service 12/21/42. He volunteered for the paratroopers because they were offering, what I was to believe, $25 more a month in jump pay.
My name is Dennis Sura and I am Mike's son. I was awestruck by the service as a kid.
| | |
| --- | --- |
| Playing basketball in the "Back of the Yards" | |
BASIC TRAINING CAMP TOCCOA, GEORGIA
Dad was very athletic and played a lot of baseball, but his favorite sport was basketball. He played in the neighborhood parks, settlement houses (Jane Adams), grammar school ( St. Rosa Lima), high school and traveling teams. He told me he once played against George Miken of Minneapolis Laker fame. He took to the physical rigor of basic training well and could run all day. He was on the small side at 5" 7" and probably weighted around 150 + pounds.
He told me many stories of long hikes with full field packs and the time all the guys that made the objective were allowed to ride back in trucks, while the others walked back. He told me of punishment for minor infractions, like sitting on your bunk, where someone would have to pound the streets of Toccoa with the company machine gun on his shoulder.
Dad told stories of Sgt. Harmon, who was from South Carolina, and how he would say "Rat for Right", and when he said attention, " I want you to stand there like 3 rows of sweet corn." I had the chance to talk to Fred Harmon a year before he died and he remembered my dad Mike, George Monkhouse, Dick Huggler and Manfred Seeberger. Fred did say he had to slap Huggler for sitting on his bunk during the day, "As that Boy didn't listen."
CAMP MACKALL, NORTH CAROLINA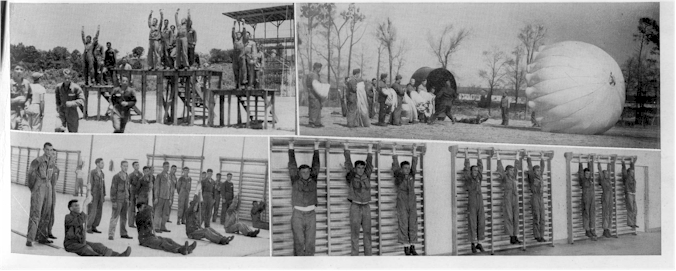 I still have the many picture postcards that dad saved of the various training routines, apparatus, chute rigging tables, and typical buildings at Camp Mackall. He told me a story about folding his socks individually a certain way that earned him a weekend pass. Dad qualified as 1st gunner on a light machine gun and also mortar gunner. He carried just about every arm issued during his 3 year hitch and he taught me the proper positions to shoot as a boy.
FORT BENNING, GEORGIA SEPTEMBER 1943
The best remembrances were the jumps. I think dad made 17 in all with two being combat jumps. He went up in an airplane 17 times in his life and jumped out every time. On the occasion of he and mom's (Dorothy) 25th wedding anniversary they flew from Chicago to Hawaii. When they landed in San Francisco to change planes in 1972, it was the first time since 1944 that he didn't jump out. As a squad leader under the leadership of Sgt. Price and Wilson dad did what he was supposed to do. This was the simple guidance he gave me that I used in my 37 year career working for General Mills, Inc.
Dad's great grandson, Nick Mazzuca, followed his great grandfather through Fort Benning 65 years later. Nick will be with the 82nd Airborne and will be deployed later this year following his great grand dad's footsteps. I too wanted to be a paratrooper when I finished college in 1970, but dad made it clear he didn't want me to go unless I was drafted -- a surprise to me.
ON TO ITALY AND GETTING HIS FEET WET
Dad departed the US from Camp Patrick Henry in Virginia on May 17th, 1944. The 517th climbed aboard the Santa Rosa for the trip to Naples, Italy landing May 21st. As a kid we toured the Museum of Science and Industry in Chicago which had a model replica of the Santa Rosa. The day I first saw it, the museum was moving the German Sub U-505 across South Shore Drive from Lake Michigan via rails next to the museum.
The 517th boarded railroad cars for the staging are Neapolitan, then on to "The Crater". On June 14th, 1944 the PRCT moved to LST's to carry the troopers to Auzio, where the 517th saw Their first combat, Fracati, Civittavecchia, Grosseto, Italy.
| | |
| --- | --- |
| Huggler, Sura | Huggler, Zais, Sura |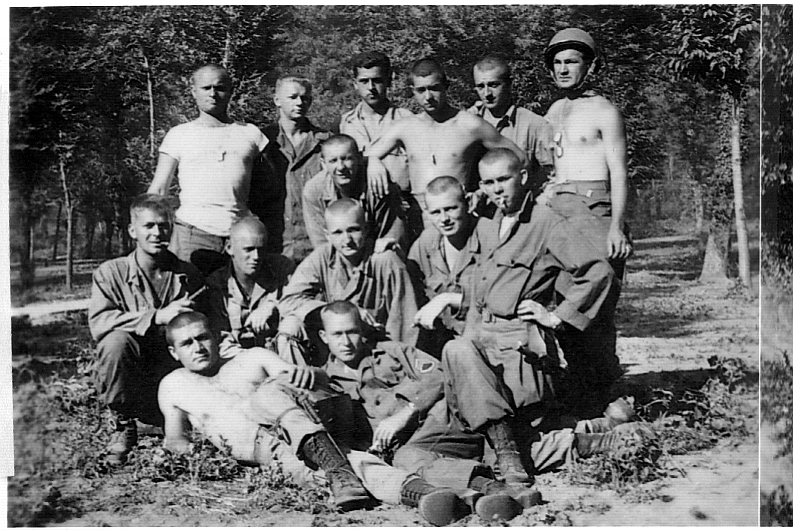 Mike Sura (hunched over in middle with arm on shoulder) H Company, 3rd Platoon, 2nd Squad.
Picture taken before being pulled out from Italy and relieved by the Jap/GI 442nd regiment.
SOUTHERN FRANCE
After Rome, Dad got busy preparing for the 15th of August and flying to another place still held by the enemy in France. The 517th objective was capturing La Motte just to the north of Le Muy, and Les Arcs. Dad landed in a tree 25 miles from the battalion objective. H Company was involved in a fire fight at a railroad embankment. Dad and George Monkhouse encountered a truck of Germans and a surprised German Officer was killed by George. Dad said he saw men killed by our own planes in the confusion of battle. I also think Dad got caught in a big artillery barrage that he told me "made him cry and hug the ground."
THE BULGE & BERGSTEIN, GERMANY
In December of 1944, Dad and team helped stem the tide of the onrushing Germans in the Ardennes. I heard many stories of the cold and the team's movement in five major attacks.
I can remember a trip we had fishing in Canada in May. We got a snow storm and suffered all day with wet snow. It was tough but dad said a walk in the park compared to the Bulge. The war was coming to an end for Dad as they chased Germans out of the Ardennes in January. He told me of seeing German bodies frozen into the road after the Malmedy massacre.
The 517th made a diversionary attack in the vicinity of Bergstein Germany about the 5th of February 1945. Dad and the team would be crawling through the largest mine field in history on the German border with Belgium. Dad and Monkhouse were lead scouts and George in killing the occupants of a pillbox. George got into the pillbox and beckoned him in, but Dad told him to come out. They got out of there and Dad set off a trip flare and immediately opened up from several points. The enemy was too heavily dug in and defended by German Paratroopers who had the area zeroed in with their mortars.
Dad was wounded twice that day suffering shrapnel wounds in his back and a heavy flesh wound to his right arm on 2/6/1945. They were pinned down in the mine field under mortar and machine gun fire. The only way medics could get him out was crawling in line by following the tape strung out by the engineers. Dad's platoon mate Dick Huggler (Alpina, MI) was also taken of the field.
THE END OF THE WAR
The 517th was relieved and their 3 Battalions were reduced to that of a company size. Dad went to many hospitals and recovered from his wounds in Europe. He went on a special assignment and the story he told me was similar to the Jack Nicholson movie "The Last Detail". I am not sure if he came back on the Oneida as he mustered out Dec. of 1945.
AFTER WW II
Dad met my mother, whose first husband died during the war. She had two daughters and together they had a son and another daughter. He talked to my mother and his friends about the war and had great respect for those that served, particularly those that didn't come home. He worked in the steel mill in South Chicago and 30+ years for the Lever Bros. Co where he retired. He was an avid fisherman and developed many fishermen in his family. He enjoyed travel and left that lust with myself. He lived to see all of his 14 grand children and died before my mother on November 27, 1982.
Dad never expected or pursued remuneration for his wounds. Coming home was reward enough for him. He always said, "The bravest men never came home and he owed his life to many of them." We are proud of our father and his contributions to "Doing What He Was Supposed To Do"
AIRBORNE ALL THE WAY!
| | |
| --- | --- |
| Nothing like a Walleye – International Falls, MN | At the front with a bad ankle. |
received July 2009 from
Dennis Sura, son of Corporal Michael A. Sura, 3rd Battalion, H Company, 3rd Platoon