517th Parachute Regimental Combat Team

John M. Pastalenic

H Company
I am writing in response to requests that we share our experiences and memories as we served in WW II.
In February 1943, I was employed in a blacksmith shop at Socony Vacuum Refinery in Olean, NY. in the blacksmith shop. My best friend Joe Lorenzini, enlisted in the Marines and I had hopes of joining him but was turned down because of being color blind Had the same result in applying for submarine service. It wasn't long before I was drafted and sent to Fort Niagara Falls Induction Center where Ray Sczudlo and I had the opportunity to volunteer for the ski troops. The two of us and a small group from the Lake Placid area boarded a train in Buffalo, arrived in Denver and were bussed to Camp Hale, CO - elevation approximately 9,000 ft. above sea level.
Here, there were newly built two story barracks: two large bunk rooms, Sgt. private room, boiler room, back pack storage rooms, showers and toilet facilities. Lights out at 9 PM when the main center isles were wet down with a wet mop nightly to add moisture to the air, along with other containers placed near the open windows.
Clothing was decent heavy underwear, shoe packs, regular shoes, mountain jacket, parkas, caps with ear cover, dark goggles, rifle, skis, poles and seal skins. The skins were fastened to the full length of the ski for traversing a steep slope at a desired angle. The skins had short hair that would act as a brake if the ski began to slide backward.
After reaching the desired elevation, the skins were removed and wrapped around the waist and the expert skiers selected the down hill run. Those of us that were not experts brought up the rear.
After morning chow, we fell out for role call. It snowed almost every night so close order drill was mandatory to pack the snow down before heading to a class for instruction.
We trained at the rifle range: 200 yds., 300 yds. & 500 yds., I believe. It was colder than cold. I don't remember any high scores there. Some were probably boosted with an "M-l" pencil). Physical fitness focused on building up the legs and shoulders. No double time but a lot of cross-country skiing, some rock climbing and bivouacs into the mountains for several days. When we reached our destination we broke ranks, dug a hole in snow about 7 ft. x 4 ft. and 2 ft. deep, under a large evergreen and built a temporary lean-to over our new bunk, lined the bottom with pine boughs and laid a light pad over them and under our individual doubled sleeping bags. It was comfortably warm in the sleeping bags, but tricky getting dressed in the am. having packed most of our outer clothing in the bag with us. We prepared our own breakfast before reveille at 8:00 am. Then off again on a climb or cross country and in a few days back to base camp. The PX and theater was open most every night.
When the temperature began to moderate we were back to basic training and the hikes continued on dry ground, up and down the slopes and valleys. One was a memorable one. We bivouacked at 11.000 feet above sea level (timber line). The vegetation and trees very scarce with some snow on the northern slopes. We stayed there for two or three days, in two-man pup tents on that trip. Other climbs might have taken us four to five hours with a 10 mm. break every hour and "Take a smoke if you got em" ) was the normal call by the Sgt.
On another hike up the mountain, after reaching the designated elevation, the officer in charge gave us a command to descend the slope as fast as we could, any way we could, just for kicks. It was a circus to see some of us tumble and roll a.. over tea cup. No one was hurt that day.
While at Camp Hale, there were members of Company "F" of the 511th Airborne Regiment Combat Team from Fort Campbell, KY participating in exercise ski jumps, undergoing winter training.
One day, our camp news carried an article about the paratroops and I decided that's for me. It was difficult to transfer out of the ski troops, but I persisted and finally transferred out. I had spent about 9 months with the ski troops (later to become the 10th Mt. Div.). One more bit of information. The nearest town was Leadville, about 7 miles from camp, where we congregated occasionally at the Silver Dollar Saloon. The Library in Denver has interesting accounts of that time period.
I arrived at Ft. Benning, GA, moaned and groaned through all the physical training, survived the required five jumps, and was awarded my wings. The second day, during fallout, several wings, including mine, were stolen from our barracks. I had to buy new wings to replace the original ones I trained for and that was very disappointing.
Now we were considered replacements and it was more difficult to make friendships in a short time. I pulled guard duty at the dump one cold day and was instructed to stand ten paces away from the prisoners. Our rifles weren't loaded and the prisoners knew this. But I stood around the fire with some of them to keep warm. I was reprimanded by the officer of the day when he pulled up in a jeep and read me the riot act, drove me back to the barracks and let it go at that. One of those guys, Larry Allocco, from Ozone Park, NY became one of my best friends and after the service I was best man at his wedding and were friends for many years.
We were soon moved to Patrick Henry, VA camp waiting to ship out. I was with a group that boarded a liberty ship, (George S. Bankroft) out of Newport News. I was seasick for a couple of days, but eventually got my sea legs. We joined other ships sailing south in the Atlantic, with other ships joining the convoy. Our ship was in the second row at the head of the convoy. At one time I could count at least one hundred ships and could not see them all. Two large navy ships were seen from time to time. We figured they were circling the convoy and there could have been others. One of the scariest days of my life was when the convoy became trapped in a storm. No one was allowed on deck as waves 10-15 ft. high washed over and above the ship's deck. Another eventful night we had visitors from the German air force. We couldn't tell how many planes there were and again, we were not allowed on deck but the door above the stairs was open and it looked like the 4th of July. All our ships that had artillery were firing with some tracer hardware.
We sailed through another storm before entering the Mediterranean, passed Gibraltar, making our way around the southern side of Sicily through the Masina straits, nearing Naples, where we embarked. The entire voyage took approximately 25 days.
At Naples, we unloaded and boarded freight cars with our duffel bags and headed south back across the straits to Sicily, where trucks took us to the western town of Tripani, a very neat fishing village. We trained there for a few weeks and made a practice night jump with some French troopers. There was an athletic meet being planned to take place in Palermo and we were asked for volunteers to box or run track. I volunteered to box, so the officer in charge set me up with a boxer to see what I could do. The officer said I was "willing to fight, but didn't know how to box" so I flunked out. But I did get to Palermo and had a good time.
When it was time to ship out and round out the squads in the 517th the request was made for privates. I had earned a corporal rating in the ski troops so I offered to take a bust, and was accepted as a private. The paper work was never processed and when it caught up to me in the hospital later, I was a corporal again.
We left Sicily for the "crater" in Italy to report to Sgt., 2nd Squad, 3rd Platoon H. Company. He never got off the ground to welcome or accept me as a member of his platoon. It was a little difficult to fit in with the "old boys." We soon left the "crater1' and assembled on a sandy beach waiting for an LST. We boarded the LST and disembarked up the boot of Italy. The first day in combat was a memorable one. It was raining and our objective was to secure the hill. About halfway up two Italian ladies were coming down with baskets of clothing on their heads. They stopped as we approached. After talking with them the officers in charge were led to believe that there was no one on the rise above. The sun came out and I was changing from a wet to dry cover. We moved more cautiously up to a plateau, where the Germans surprised us, opening up with small arms and pinning us down. Shortly, we were shelled with mortar rounds and the colonel got orders for us to move back down the hill. As I rounded. some brush and rocks, I saw my first casualty. Our machine gunner had half his head blown off. When I spoke with Lud Gibbons later about this incident, he said it was mortar fire from the Germans.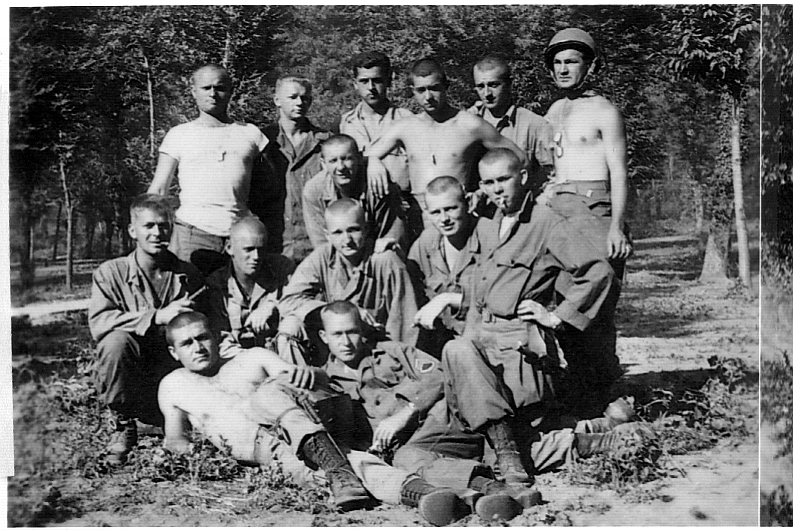 Sgt. Robert P. Price and 2nd Squad, 3rd Platoon, H Company
Top row, 2nd from left: John Pastalenic; 3rd from left: Wally Vincent; last , top row: with helmet, Sowicki (sp. ?)
2nd row, last on the right, kneeling with cigarette: George R. Monkhouse
Bottom row, Sgt. Robert P. Price; next to him: SSgt. James S. Wilson
These pictures of H Company 3rd platoon were taken by Cecil Doty in the Crater Area in Italy in 1944.
We regrouped and continued our advance up the boot, routing out the Germans. One day we approached a small town built on top of a hill surrounded by high stone walls. Some of us slept on the wood floor in the church. I felt quite safe that night. I've since learned that Cecil Doty was there also. I don't remember the next day.
Another incident I do remember is our walking through the German positions in the middle of the night. We were told to tighten or tie down anything that would make a noise and no talking. On another occasion we were behind the lines relaxing. Cecil Doty bribed an Italian kid to bring some fresh water for a quick wash. I had a helmet full of water, got washed and dried. Cecil was stripped and wet down when we were shelled by the enemy and he had to dive into the slit trench soaking wet.
Subsequently we were pulled off the lines and reassembled in an olive orchard near Rome. One memorable day at camp, passes were shut down, but two of us decided to visit Rome one more time. Of course we were picked up by the M.P. and taken to an old Italian jail. We were put in a basement cell that had a 3-wall bulb and a pitched wooden rack for a bed. About 2 am an officer from our outfit claimed us and drove us back to camp. He told us to report to our captain in the morning. Of course it didn't happen.
Soon we were ordered to pack up and get ready to ship out. Sgt. Price was our squad leader at this time. We were moved into some open fields and waited for the C-47. The day before that, some of the guys were playing football, some of us were swimming, etc. The clergy were there. Later that evening we packed our gear with all the extra ammunition, extra belts of M1 clips, machine gun belts or bazooka rounds, grenades, water canteens, Ml rifle, bayonet, trench knife, two-day rations, shovel, toilet articles, main chute, safety chute, etc. (wt. approx. 80-90 pounds.)
We boarded the C-47 with a little help to climb the step to our seats to wait for take-off. We jumped into France about 4 or 5 am. in the fog. A stone turned me as I hit the ground and I landed on my back knocking the wind out of me. I had to unload some of my extra ammo.
We began to regroup in the dark, hearing shots in different areas. It took us about 2 days to round up most of our troops. On day 2, we approached a railroad embankment with orders to cross over and clear the grape vineyard. I remember that the lieutenant and sergeant crossed over and I was the third guy to cross. Howard Hensleigh can verify most of this incident.
I began to work my way into the vineyard when a German dashed across the road between the rows. I jumped the opposite way, not having time to fire. I waited for a few minutes and began to creep out on my elbows and belly. Before I got to the end of the row a burst from a burp gun turned me over on my back. I knew I was hit hard and began to back track. The burst went through my stomach wall, about center, through the right groin and out the right thigh - without touching a bone. I crawled back as far as I could, then rolled over on my back and made my peace with the Lord. In what seemed a short while I heard Wally Vincent asking about me - all I could do was whistle. He shouted and asked if it was me and I whistled again. The next thing I remember was two medics, applying sulfa powder to the wounds and giving me a shot of morphine. I don't recall their names, but I remember one was short and stocky and the other trooper was a tall, slender guy. They laid me out on the two wheeled stretcher. I had never seen one like that. We were off to the field hospital and the next thing I remember was coming to on the operating table with one leg over the top of the doctor's shoulder. He was finishing stitching my stomach wounds. He mentioned to a person standing by his side that I was shot with a burst of about seven. Having been in a prone position and on my elbows, the burst entered my stomach muscles about midway and out the lower part into my right groin and out through the right.
Finally made our destination, and after a few weeks on to Atlantic City at New England General Hospital for surgery on the messed up femoral nerve. It took a few weeks to fit into their schedule. The operation was completed and I came out of the operating room with a cast around my waist and down my right leg to the top of the knee. So I was hobbling around on crutches for some time. When the cast was removed I was sent to Ft. Monmouth, NJ for reconditioning for my right foot which swung abnormally to the right. With therapy, it returned to normal.
During this period, the war ended in Europe and I was eventually sent back to England General Hospital, where I received a medical discharge.
In closing, I would like to tell everyone 1 was proud to serve my God and country and I would do it again with the 517th. In the book, Battling Buzzards, I am listed as the third man who went down but not out. The writer didn't know how to spell my Polish name.
Also, I regret I didn't get to know many of the guys personally, although I had a great time meeting Merle and Mardi McMorrow at the opening of our museum at Fayetteville, NC and have been in touch with Cecil Doty, Howard Hensleigh, Fred Harmon, Wally Vincent.
---
May 21, 2005
- Submitted by John M. Pastalenic, 517th Parachute Regiment Combat Team, 3rd Battalion, H Company.
(email address change: dpastalenic@inloblvd.com)