Le Muy, France

60th Anniversary of D-Day

August 15, 2004

Photos from Lory Curtis
1 - This first one shows how crowded the streets were for the parade in Le Muy.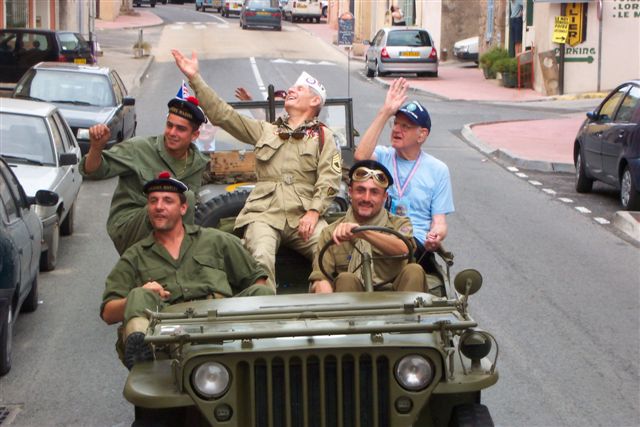 2 - My favorite picture - Gene Frice waving to someone hanging out an upstairs window.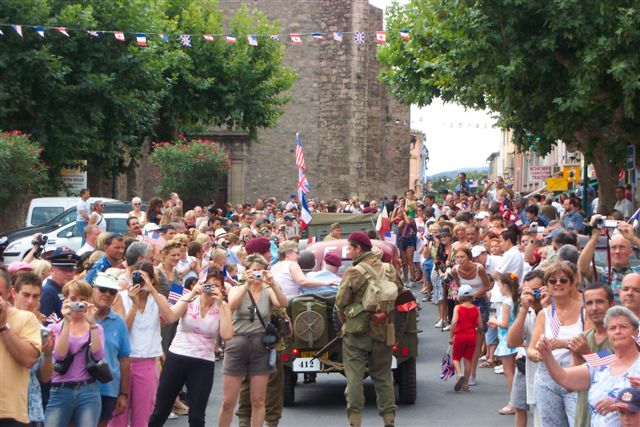 3 - The third picture shows what it was like to be IN the parade: the crowd pushing in on the street, taking pictures and shaking hands.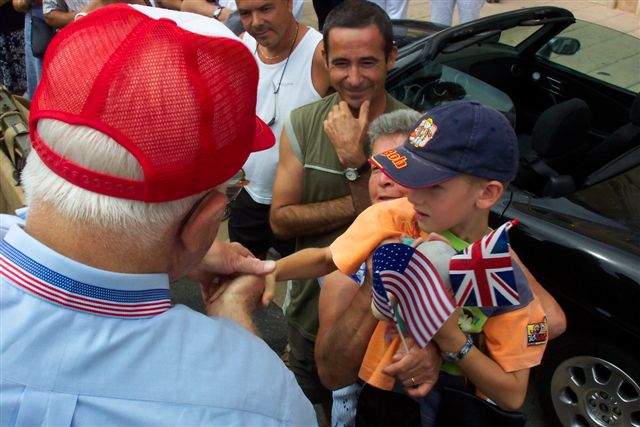 4 - A small boy being held up to shake hands with a veteran. Pretty cool.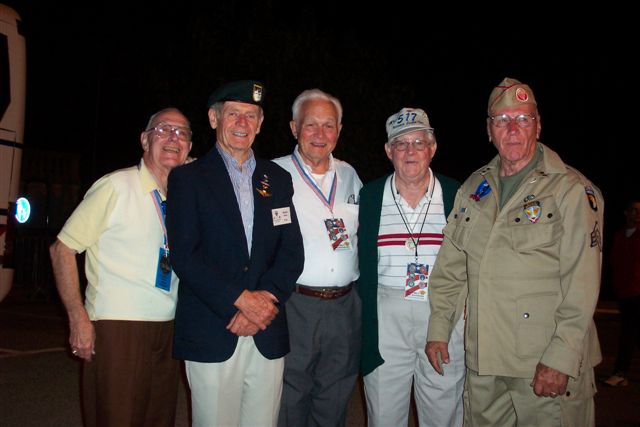 5 - Leo Dean, Gene Frice, Allan Johnson, Jesse Davis, and Merle McMorrow at the community dinner the last night in Le Muy. Marty and Lud Gibbons had already left that night.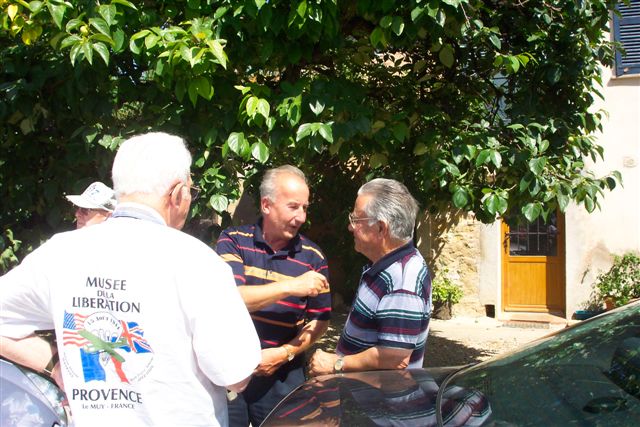 6 - Allan Johnson, a bit of Leo Dean over his shoulder, our German friend Hans, and our French friend Jean Veyan.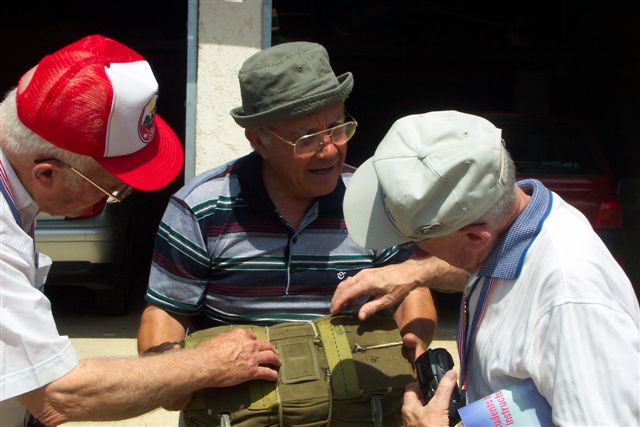 7 - Allan Johnson, Jean Veyan, and Leo Dean examining a reserve chute, still packed tightly after 60 years.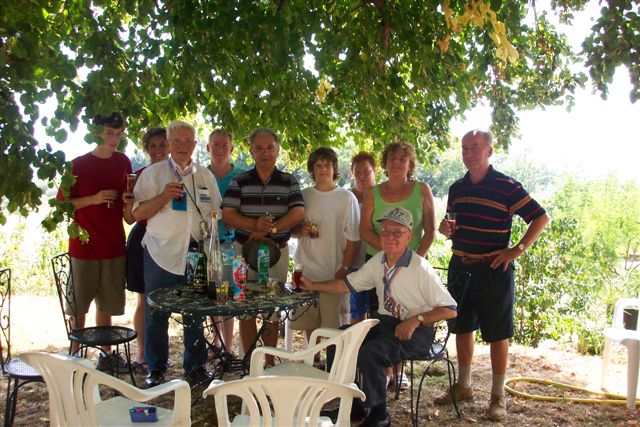 8 - The champagne has been broken out for the celebration of a liberator finding his landing spot after 60 years. Allan Johnson, Leo Dean, various family members and the French family. Hans is on the right. Such a French moment!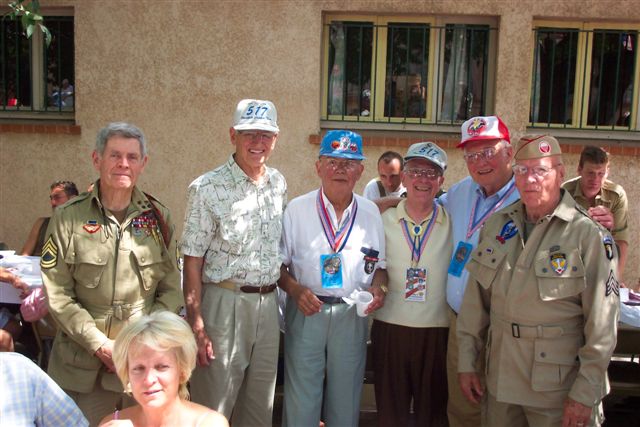 This one shows the men of the 517 with Aime: Gene Frice, Lud Gibbons, Aime, Leo Dean, Allan Johnson, and Merle McMorrow. This was taken at a community lunch during the celebration days.
Ben,
All of these wonderful reports about Southern France are surely true. My father, brother and I experienced the same thing when we visited Le Muy in June. Michel Soldi, the curator for the Le Muy Museum showed us where 1st Battalion landed on the morning of Aug 15th. If I remember correctly, it is out by Les Arch? I think?
Here are two pictures of the area today.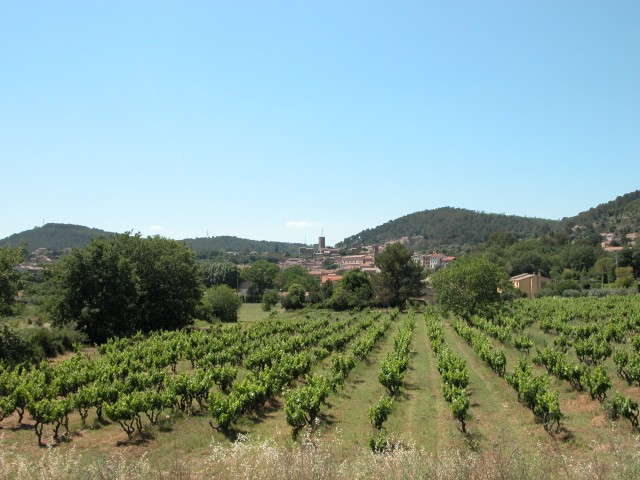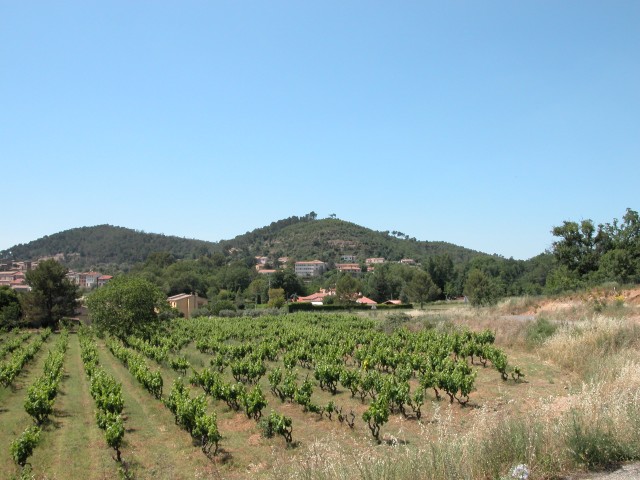 from Lory Curtis
Received August, 2004