Sgt. Nello Arterburn (G Co.) and Dortothy Mae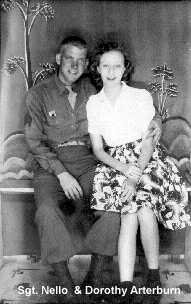 Hi Ben,
Attached is a photo taken of my father, SSgt. Nello R. Arterburn and his new bride (my mom), Dorothy Mae Schaumburg at Camp MacCall where they were married on Dec 3, 1943.
They had a paratrooper wedding and reception. My father was a young 21 and my mother 18. I have often wondered how many military men married their sweethearts before shipping out for the battle zones around the world. My parents had a great marriage and five children with nine grandchildren so far. I was the first born on Dec 21, 1944 as the 517th proceeded to the battle field at the Bulge. Both my parents have passed on now, but I want to honor their memory of their marriage and while Dad was a member of the 517th. I remember my mother saying that they did not get a Honeymoon because the 517th was in strict training and didn't get much time off the base to spend with my mother. Priorities! Anyhow, thought you might find this interesting and wanted to share it with some 517th troopers who might remember it.
As soon as I get it scanned into my computer, I will send you a letter from my Mom to her father describing the wedding. Her father, (my Grandfather) was so proud, he had it printed in his local newspaper.
Enjoy,
Michael N. Arterburn
Son of SSgt Nello R. Arterburn, 517th, 3rd Battalion, G Co.
Capt Mike
Claremont, CA
received Sept 2003