The Mercedes Incident
August 15, 1944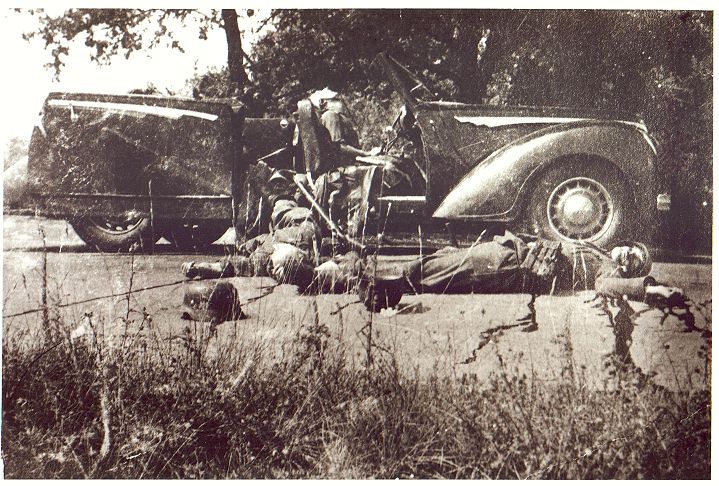 Photo sent in by Clark Archer, from Ed Boswell, who enhanced the original photo from his uncle, "Blackie" Norton
Clark Archer's complete story can be read in Patrick O'Donnell's Beyond Valor, and is also recounted on Patrick's Dropzone web site at: http://thedropzone.org/europe/Southern%20France/archer.htm
Also in Clark Archer's accounts:
"It appeared as if [Pfc. Joseph] Kellogg's M-1 rounds had done the most damage. Not all 45 slugs penetrated the car.

Shortly thereafter we turned the car over to 1st. Sgt. Eldon Bolin. We moved toward Roche Rousse. The Mercedes Benz was put back in operating condition by Boom-Boom Alicki later in the day. He kept possession of it for several days, keeping it well hidden from Col. Graves. Ultimately, Alicki donated the car to the residents of Nice.

Among the documents recovered from the command car was a copy of German XIX Army plan to redeploy its 148th Division along the coast from Monaco to San Remo (239th Regiment) and north from Ventimiglia through Briel and Tenda (8th Regiment). Redeployment to be executed by 27 August 1944."