Pfc. Robert Lee Crawford
A Company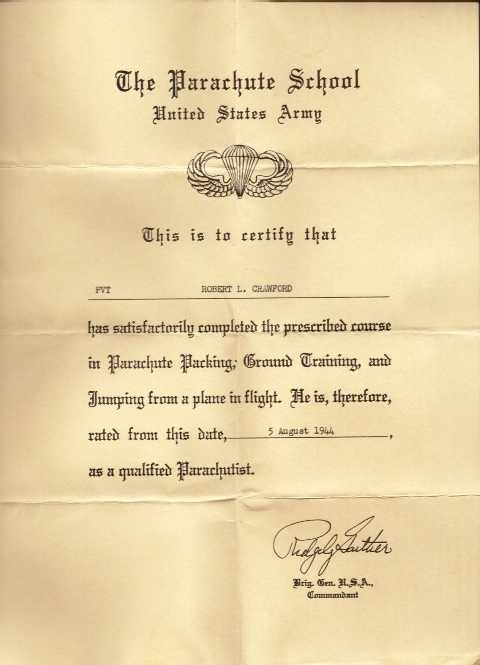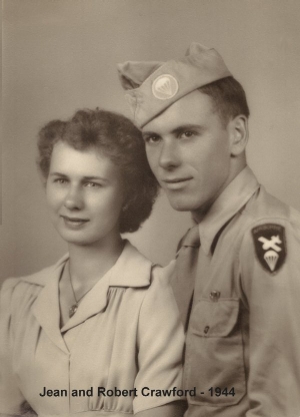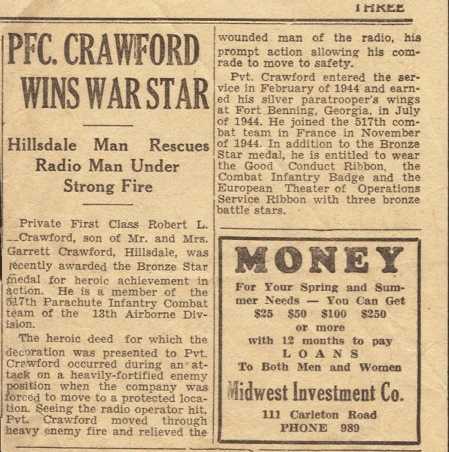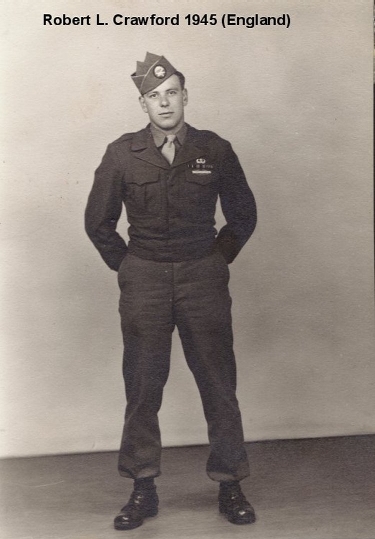 sent in by Ted Crawford
(received January 2002)
Ben, I have continued to document family history. My parent's war years will play an important part of that history. My father and mother have lived their lives more as a set than as individuals. Probably the only time they were apart was during the time my father spent with the 517th. I have attached a photo of them during the war. I think you will see why dad was so motivated to make it back home safely. The old family cedar-chest has yielded a few war treasures that are worth sharing. I have scanned some of the medals, patches, photos, and documents that I thought you might be interested in for the Web site. I thought they would be of interest to others as well. I will send them in a series of emails to make the load-times shorter.
I have learned a few more stories and I have talked more with my Uncle, Alfred (Duane) Lamb who was in Co. F. He reminded me that you guys weren't much more than 19 and that you were characters. He has some stories, too. For others in Company A : PFC. Robert L. Crawford joined the service in February 1944 (a few days after he was married to Jean Elizabeth Dawson) With a wedding picture of his new wife in his pocket, Robert earned his Paratrooper's Wings at fort Benning, Georgia. He apparently was staged at Fort McClellan, Alabama, and shipped out to meet up with the 517th in France in November 1944. Jean, his wife, found work in Hillsdale, Michigan making shell casings for the war effort.
The letter (citation) signed by Major General E.G. Chapman for my father's Bronze Star states that it was awarded for his actions in battle near Zerkall, Germany in February, 1945. There he recovered a SC300 Radio and helped the wounded operator to safety while the unit was pinned down with small arms fire. ( I found news articles about my father that are probably representative of the types of articles that many home town news papers were writing about you guys. I will send copies also.) Prior to the Bulge, he tells a story of occupying what was believed to be a hunting lodge used by King Leopold in Belgium. Robert Crawford fought through the Bulge with you guys and he tells about digging through the snow to find ground and huddling with another soldier to keep from freezing during the night. He tells of the horrific explosions and the deadly blasts of wood as the trees were splintered in battles in the forest.
After the Bulge, he apparently elected to go on and fight in Japan rather than to occupy Germany. He was on a ship bound for the Pacific when the news that the war was over was announced. (As I mentioned once before, he said the ship almost came out of the water as it turned for home. ) When the ship made it to New York, he said the first thing he could see was the Statue of Liberty in the skyline. The story from there is that his paper work was lost for awhile and he spent some time on a "victory" or "bond" train touring the "States". He toured as a War Hero with his chest full of medals at the various celebrations until his discharge papers caught up to him. He said one of his jobs was to run the spotlight on the train.
He returned home to work a farm and run a dairy with that picture of my mother still in his pocket. He eventually moved to careers off of the farm and joined Chrysler and Ford in management and sales positions in the Truck Industry. As we prepared for my mother and father's 50th wedding anniversary a few years ago, my father took the photo of my mother from his wallet long enough for me to enlarge it for the celebration. That photo that he carried throughout Europe and throughout his lifetime is still in his wallet today. He and mom have a wonderful marriage, a happy family and now 5 great-grandchildren...and counting.
Regards, Ted L. Crawford proud son of Robert L. and Jean Crawford