Sgt. Bill Lewis and Ernest Melvin Morrison
HQ Co., 2nd Battalion
Hi Ben
The picture Chris sent you of Bill Lewis and [Ernest] Morrison was taken some place in France I just don't remember where. Sorry about that. I sent this picture home to my Mother and wrote the names on the back with the note that Bill was a Sergeant when the picture was taken but shortly thereafter he got a Battle Field commission to 2nd Lt.. Sorry I can't be of much help.
You might try Irene Lewis as I gave she and Bill a copy of this picture when they lived in Hudson, FL many years ago. Probably in the late 80's.
Best regards,
Darrell Egner
Ernest Melvin Morrison (left) and Bill Lewis (right)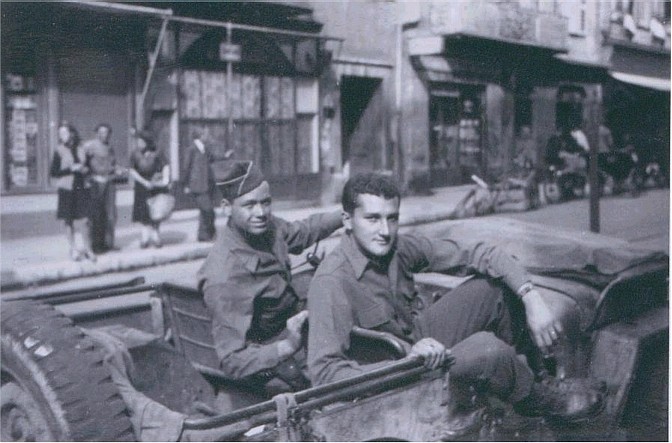 From Darrell Egner
received February 2004
Received Feb 2007:
On the photo page in reference to Bill Lewis & Joe Morrison, I wanted to inform you that the name on the Joe Morrison picture is wrong. That was my father and his name is Ernest Melvin Morrison, not Joe. I found this photo while looking up information on the 517th. I put in the name Morrison and up came the photo marked Joe. I thought the man driving the jeep really looked allot like my father and never thought the name was wrong, I just thought he looked allot like my Dad. While looking through some old photos I came across the same photo, so I knew this was my Father and not a look alike. I guess the name on the photo should be corrected and wanted to send the correct info to the right person. Please contact me at any time.
Cindy LaMontagne