Lt. Robt. J Reber, HQ Co. 3rd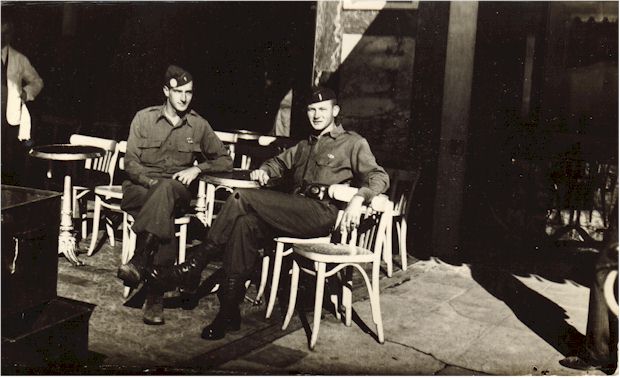 I have attached a jpeg photo of my late father (Lt. Robt. J Reber, HQ Co. 3rd) and a Lt. White, that may be suitable for adding to the 517th website. I certainly would like to see it on the website, if possible. The caption on the back of the photo, in my father's handwriting reads, "Lt. White and myself in a street cafe in Southern France". It is also dated Sept. 29, 1944. The Lt. White is Lt. Harold L. White (HQ Co. 2nd), I believe.
I have also discovered a small blue booklet in my father's belongings, that details the program and attendees of the second "Prop Blast" at Camp Toccoa, Georgia, dated June 12, 1943. It would be about 7 images with the cover, when scanned. Would you like for me to scan it and send it to you? [Note: We have received Tom's copy and will be posting it soon -- BB]
I am also wondering if anyone knows the Lt. White in the photo and his whereabouts? I have discovered other photos with Lt. White in them as well and I would be interested in contacting Mr. White, if that is possible.
Thank you and keep up the good work with the site!
Tom Reber
[July 20, 2001]