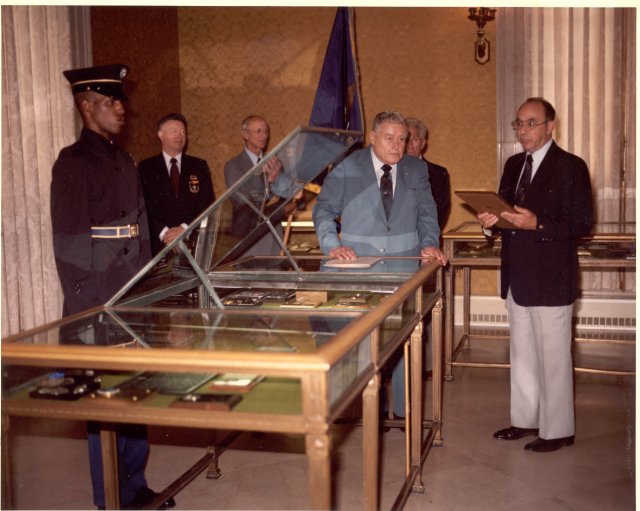 The first is at the Remembrance Plaque of the 517th PRCT at the Amphitheater Arlington National Cemetery, Daddy (Col. Louis A. Walsh, Jr.) is in the middle, and I wish I knew who the others are. Maybe you can enlighten me. Year? Around 1985, I think.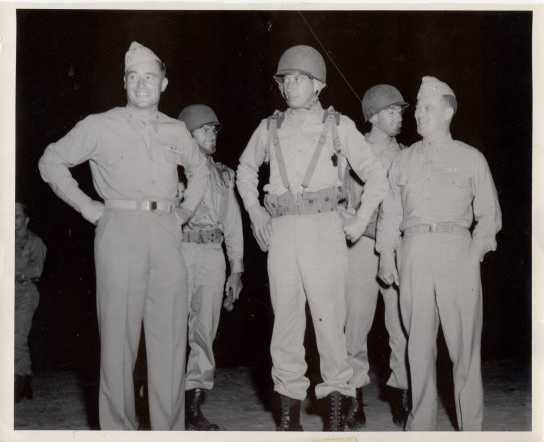 The second: Daddy, Dick Seitz, Ike Walton, and second row, Lt. Paul D. Lewis and Tom Cross. Not dated, but either at Toccoa or Mackall. Clark Archer sent them to me, and probably knows the year. I was so delighted to have them, forgot to ask the years, or location of the second. If you would like to use them, I would be delighted. Maybe Clark has more? Will e-mail Lamar Davis to see if he has any at the reunion, 1990, of Col. Graves, though possibly Clark has some. As historian, would hope he would! Thank you so much for responding.
Further information from Tom Cross (March 2005):

This is the background information regarding this photo; It was a proud moment for the 2nd Battalion. We had just pulled into the Camp Mackall, NC Railhead after setting a significant record for the 2nd Battalion at the US Army Parachute School at Fort Benning, Georgia. Colonel Louis A. Walsh, our Regimental Commander, and Lt. Colonel Ike Walton, Regimental Executive Officer, met us as we detrained and the photo speaks for itself. We were glad to be home and appreciated Colonel Walsh and Lt. Colonel Walton's warm welcome and praise for a job well done.

The people in the Photo are: Left front is Colonel Walsh and immediately behind him is 1st Lt. Paul Lewis our 2nd Battalion Adjutant. Lt Colonel Dick Seitz, 2nd Battalion Commander is at Colonel Walsh's immediate left and next to him is Lt. Colonel Ike Walton and to the immediate rear of him is Major Tom Cross the 2nd Battalion Executive Officer. We all looked happy in this photo and that we were for it was nice to be home and to be appreciated.