S Sgt. Wayne S. Jackson
Company C
January 4, 2005
Enclosed are the documents on my Uncle, Wayne S. Jackson and Company C.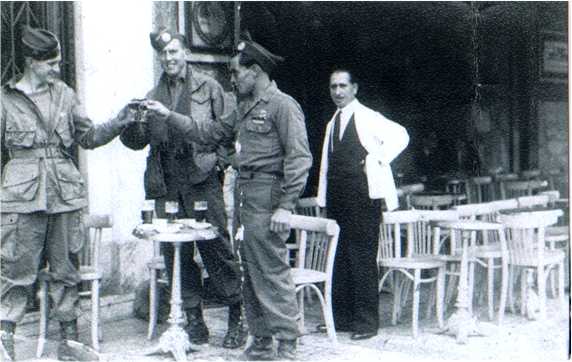 Enclosed are three pictures of Company C men. The first is a group of three paratroopers having a toast at an outdoor cafe. This picture was taken in Nice, France. Jackson is on the left; the middleman is unidentified. The trooper on the right is Davis. The back of the photo says: "Wayne Jackson WWII Nice, France 1944 1. Wayne 2. ? 3. Davis." There is a PFC William A. Davis on the 1944 Christmas Roster .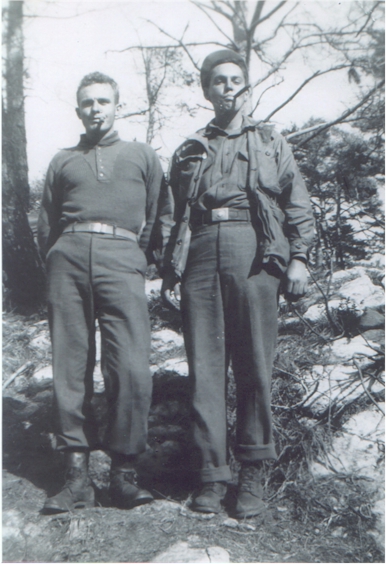 The second picture is of two men of Company C, Welborn and Maple. The back of the photo says: "Welborn and Maple Those pines are kinda beat up." This picture was also taken in 1944 in Southern France. The men are Guy B. Welbom and Robert I. Maple, of Company C, and I believe the First Platoon. Both are listed on the Christmas Roster, Maple as a corporal.
Johnson (3rd from left, front); Filipino (4th from left, standing); Larsen (6th from left, front)
Shaddox (2nd from right, partly hidden); North (far right, front)
The third picture is one of a group of nine men of Company C taken at the same time as the second photograph and on the back is written: "The gang in WWII Wayne Jackson." I believe these men were all of the First Platoon and Wayne identified Johnson, Filipponi, Larsen, Shaddox and North. I asked him about their first names and he said they didn't use their first names. He said the other men must have been replacements. Shaddox was Wayne's best friend, both from Bergman, Arkansas, joined together, went through training together and served in the same Platoon and Squad. Shaddox, whose nickname was "Tilley" was shot in the Battle of the Bulge and died later in a London hospital.
The Christmas roster lists these men: PFC Tildon W. Shaddox, Mervyn L Filippone, Gerald L. Larsen and James H. North. An E.P. Johnson, is in the 1987 picture of Company C at the reunion.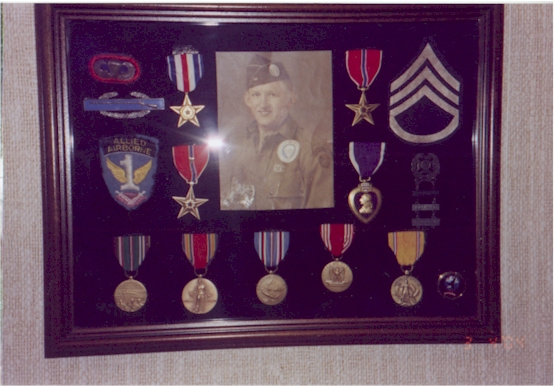 Finally, is enclosed a picture of a display of Wayne's medals.
Wayne's discharge certificate (below) shows he participated in the battle of Normandy. I believe this verifies his story he jumped into Normandy on D-Day as he has related to me several times. Again, he said only a few men were chosen from the "outfit" to get a combat jump -- get some experience -- and they were only there a short time. I don't know which division he jumped with but I think it was the 82nd Airborne. He was reluctant to talk much about this experience as well as the incident involving the Silver Star.
The record shows he got the Silver Star and two Bronze Stars, one a Bronze Star Arrowhead. I would appreciate your updating the web-site to show these awards. [done]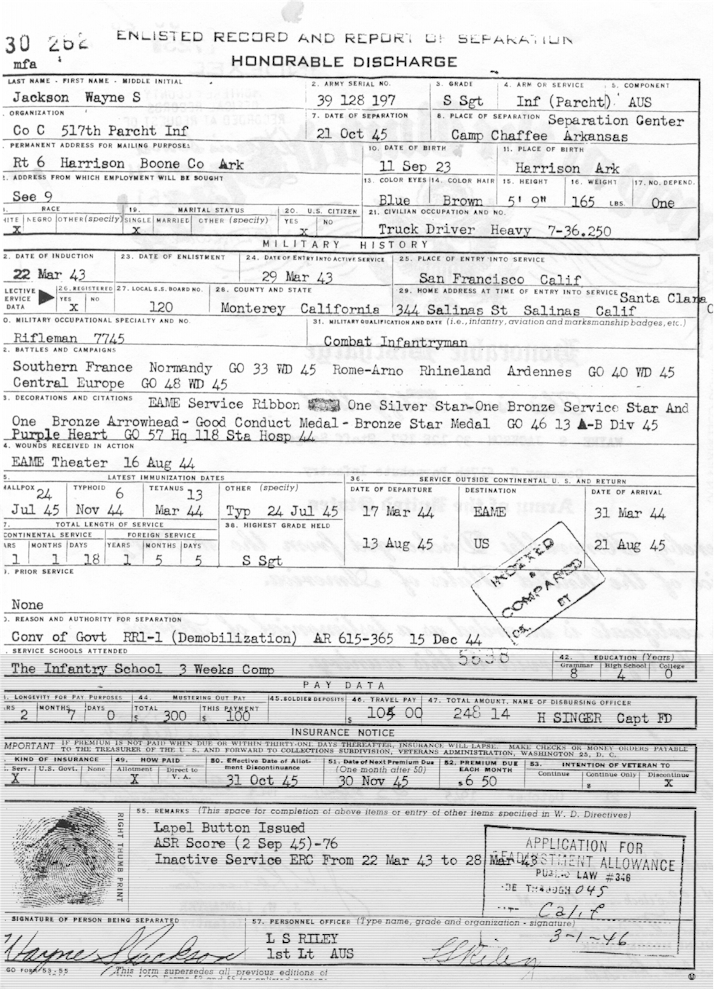 From Darrell Hickman, nephew of Wayne Jackson, C Co.
received January 2005