517th Parachute Regimental Combat Team

Bi-Annual Reunion - 1973

New Orleans, LA

D Company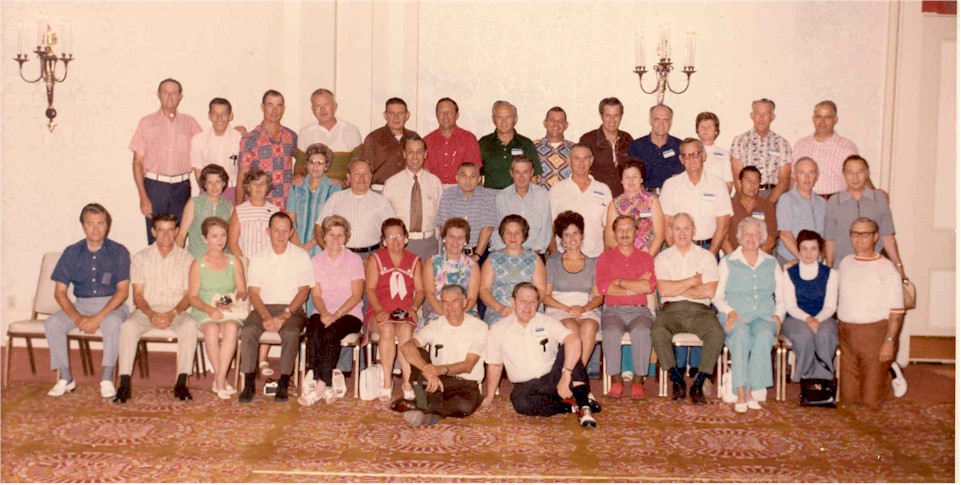 D Company - 1973 Reunion
I don't have any further information on the reunion. I know it was in New Orleans because the photograph has the name of the photographer on the back. My father (Mike Kane, D Co.) is the second from the right, in the second row from the front.
I am going to guess that Mel Edwards and Ted Lobur were in the pic since I recall my dad renewing the friendship with those guys after that. Maybe Kelly Edwards could shed some light on it. I know it was taken before 1980 and I think it was probably my father's first reunion. Nashville and Fayetteville and Albany followed as I recall.
Mike
(submitted Sept 2003 by Mike Kane Jr.)
Notes from Kelly Edwards, daughter of Mel Edwards, November 2003:
Hi Bob and Mike-
I was looking around the website and ran across the photo of D Company at the New Orleans reunion. That reunion was in 1973, and thatís when daddy took over the role of secretary for the organization.
Here are some idís that Iím pretty sure about:
Sitting on Floor: The man on the right is Bob Cooper
Sitting in Chairs: The 2nd man from the left (wearing white shirt and pants) is Rudy Aube; the man in the red shirt with his arms crossed is John Guderjahn; next to Guderjahn (also with arms crossed) is Erwin Scott; and the man kneeling (white shirt and glasses) is Mel, my dad.
Middle Row: The woman 2nd from the left (wearing sleeveless white striped top) is Adrianna Polk; the man in the tie is Roger Goodsell; The man 2nd from the end is Mike Kane, Sr..
Back Row: The man 3rd from left (in the red and blue shirt) is Floyd Polk; I think the man on Floydís right is Tom Lattimer; I think the man in the green shirt is Chuck Thompson; the man with the chandelier growing out of his head is Phil Lovell; and the man on the end is Bill Uhlir.
I wasnít at that reunion, so I donít know who all was there. I see a lot of faces that I know I should be able to match with a name, but right now I have no clue.
Take care, Kelly