PFC Corbin V . Zickefoose ca. 1944

Hq Co, 1st Battalion
My father Corbin Zickefoose served in WWII in Europe with the 517th Regimental Airborne Combat Team.
The 517th was one of the first elite parachute combat teams the U.S. ever trained and put in combat.
Most people have seen the movie Band of Brothers. This movie is about the action of E company 506th airborne regiment. The 517th went through the same training in Ga. and Tenn. BEFORE the 506th. When the 506th was in training the 517th was already in combat in Italy.
The 517th was pulled off the front line in Italy in Aug. of 1944 and became part of Operation Dragoon – The airborne invasion of Southern France. Corbin Zickefoose was assigned to Headquarters Company 1st Battalion.
The 517th went on to fight through France into Belgium during the Battle of The Bulge and on to Germany.
During his days in southern France Corbin Zickefoose was wounded in action and in a field hospital for approximately 10 day.
This was in an area north of Nice France.
---
This brings me to the purpose of this story.
I am Larry Zickefoose the son of Corbin. I am a computer network administrator for the government in Covington Kentucky .
On 18 February 2007 I received the following email from Jean Marie Torelli:
dear sir, i live in the south France and i'm fan of the ww2 story and items A few days ago one of my friend have found in an old house (used as a headquarter in 1944) in a small village who is calling Touet de l'éscarène a small box with a name writted on it The name is Pfc Corbin v Zickefoose 35750861 HQ. Co st Bn .517th PIR This box was send by mrs C V Zickefoose tallmansville WM or WV (not clear) I'd like to know if the name on the box is a person of your family and if this person is always living please let me know something i 'll sent you some photographies if you want keep me advise please sincerely Jean-Marie
I found the email interesting but feared it may be some kind of scam. Two things caught my attention. 1) The address included my fathers army serial number and 2) the address of Tallmansille WV. Being very familiar with internet research and being a published genealogist I knew it would not take much research to determine that dad fought in WWII with the 517th RCT. The unit has its own website with the name of most members. But nowhere was my dad's service number listed. Tallmansville is a very small community and my mother mailed packages to dad from Tallmansville for a very short time. It was not her normal address. These two factors made me respond:
18 February 2007
Yes. That is my father and he is still living. Please send photo.
Thank you.
Larry Corbin Zickefoose
10 Valeside Drive
Covington, KY. 41017
I received the following immediate reply :
From: Jean Marie Torelli
To: zick@fuse.net
Sent: Sunday, February 18, 2007 11:39 AM
Subject: Re: about ww2 records
hello i'm very happy to read you please wait a few days for the photos
because i have to visit my friend for that can you tell me something about
your father did he remember this moment when he was in the house Touet de
l'escarène is a small village near Nice and under a famous place for the
517th it call "col de braus" The 517th have fought for a lot of weeks . I
have some 517th items in my collection like dog tags engraved canteen
uniforms and helmets . In the old house there was a lot of pieces like
jackets ration boxes papers etc. My friend have found the box a few days
ago
On 19 February 2007 I received another email for Jean Marie. This included many pictures of the box and the address. I recognized my mothers handwriting immediately. There was also a note in the box that read "You loving wife Vangie." This note confirmed to me that this was no scam and the box did exist. My mothers name is Mary Evangeline Zickefoose. Only her friends and family refer to her as "Vangie"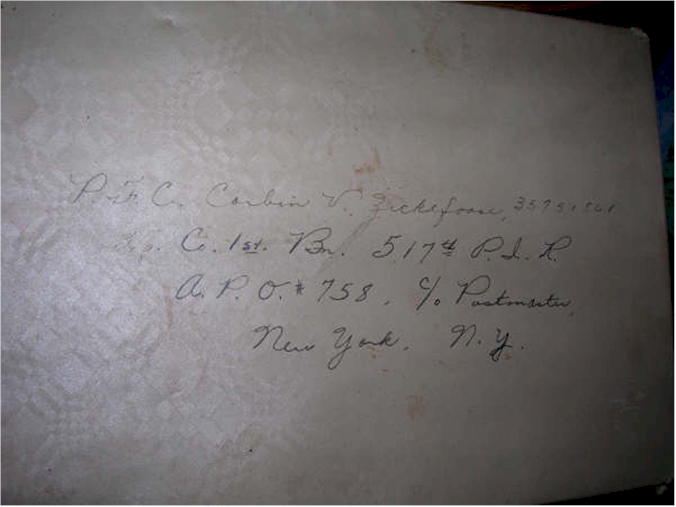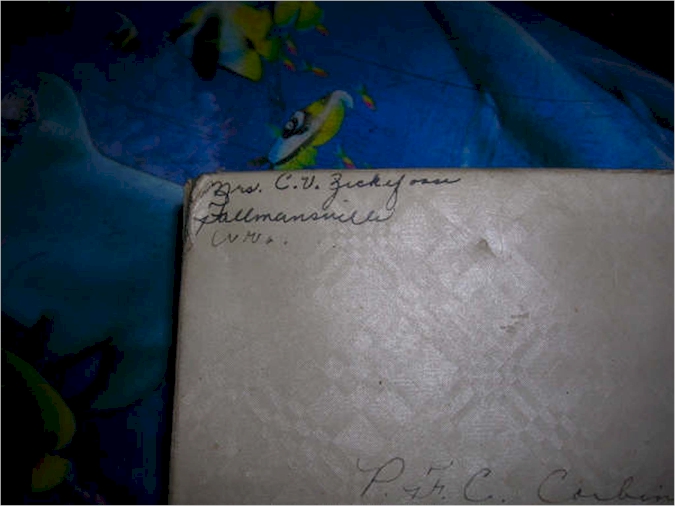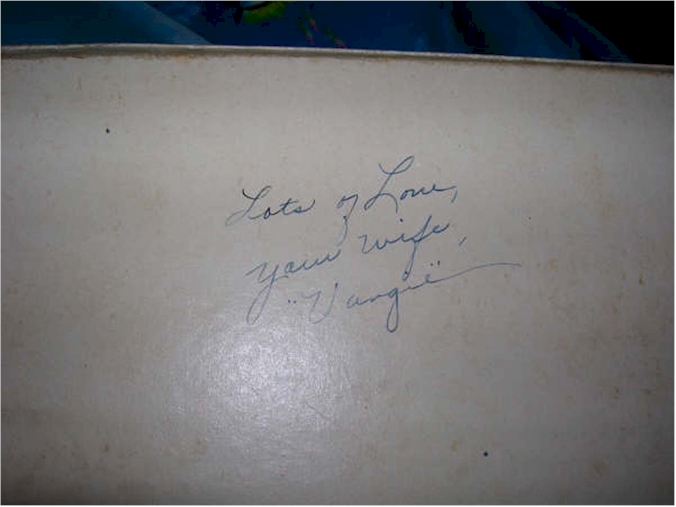 Although all communication at this point was with Jean Marie Torelli, he did not have the box. His friend Laurent Dreysse actually had the box. He did not have computer access so Jean Marie helped him.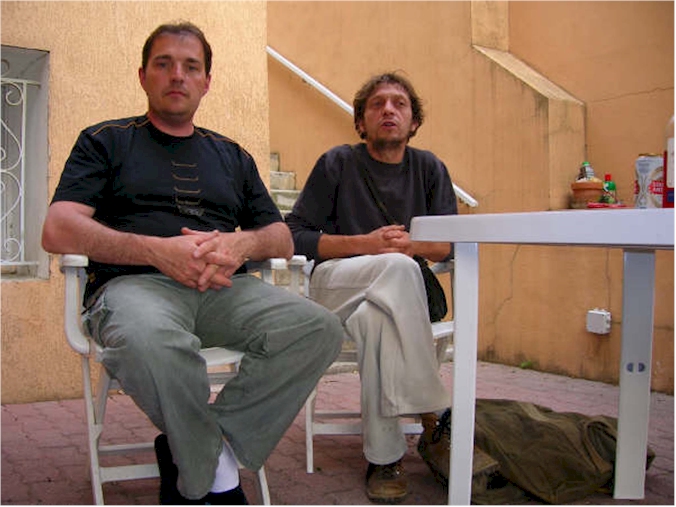 Jean Marie Torelli and Laurent Dreysse
So how does a cardboard box make it through 63 years of French weather?
I received an email from Laurent who stated that he was looking for WWII artifacts in an area where a German plane had supposed to have crashed. He stated that it started raining so he went into an abandon building that was an old US headquarters to get out of the rain. While searching through this building he found an old trunk. In this trunk among other thing was the box addressed to my father.
In the box was a ring engraved with "Naples 1944", some toilet tissues, a small note pad, a deck of cards and a couple V-Mail envelopes.
Laurent even sent me pictures of the building and the trunk.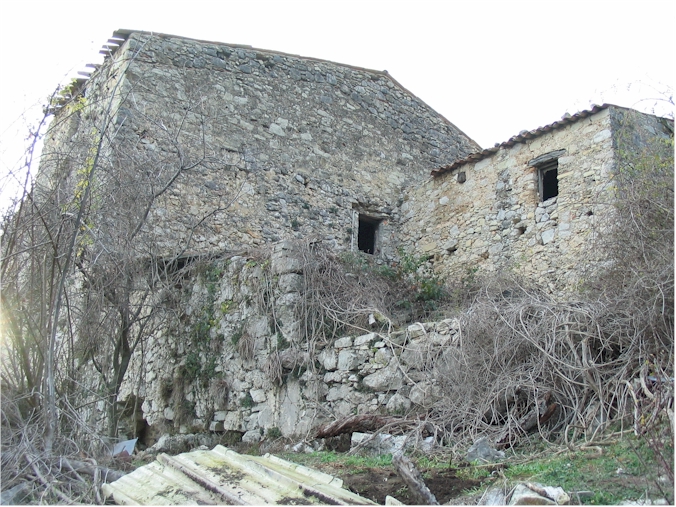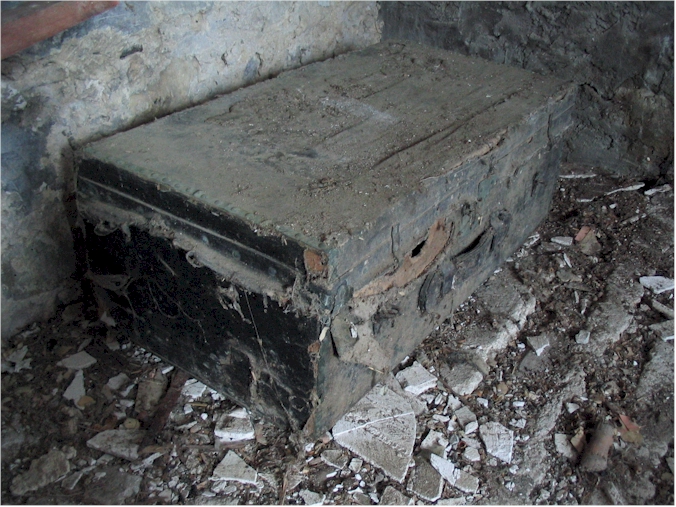 I told Jean-Marie and Laurent that if they would give this box to my dad I would be more that happy to reimburse them for their time and postal cost.
On April 27th I received the package in the mail at my home in Kentucky.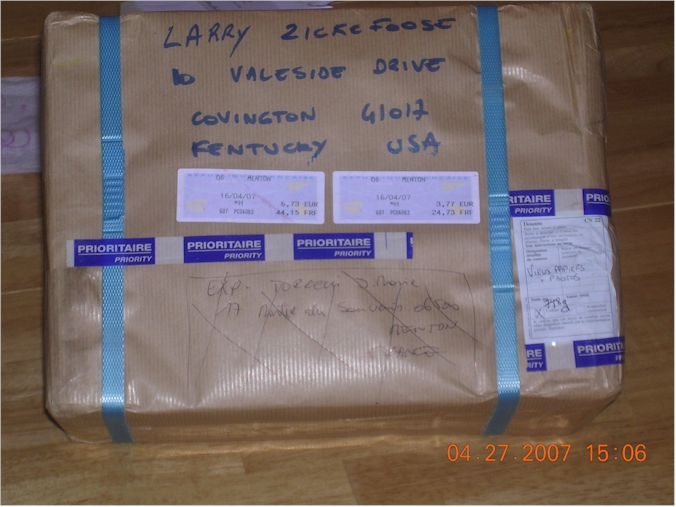 Seeing that it cost them the equivalent $14 for postage, again I ask for their address so I could reimburse them the cost.
Jean Marie then said something that really meant a lot to me and my father. He said :
We don't have forgot that if the box was in our area ,it is because your father was here to liberate our parents so that we have done it a little action alike the one of your father . Me and loule (who call Laurent) are very satisfact to have gotten a moment of happiness for your parents and your family .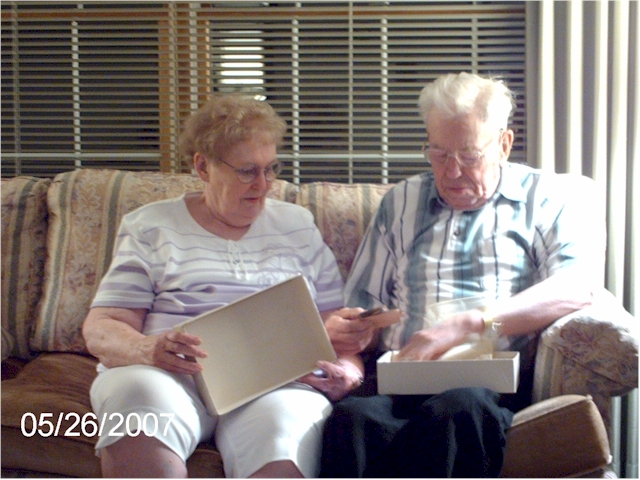 On May 26th 2007 my father and mother got to examine a package that had been waiting on them for 63 years.
Since my father parachuted into the French countryside our two countries have had some good relationships and some strained relationships. My family will Always feel that we have two good friends in France.
To rest of the men of the 517th and all other units who served in France – "They still remember you and they still appreciate you".
I will forever remember Jean Marie Torelli response to me:
"We don't have forgot that if the box was in our area ,it is because your father was here to liberate our parents so that we have done it a little action alike the one of your father . Me and loule (who call Laurent) are very satisfact to have gotten a moment of happiness for your parents and your family .
---
It was sure nice of the two gentlemen in France to send us this box. I want them to get full credit and acknowledgement for their actions.
Hope you find this good reading.
Larry Zickefoose
son of
Corbin Zickefoose - HQ -HQ -1st Bat.