517th Parachute Regimental Combat Team

1st Lt. Floyd Andrew Stott

March 24, 1921 - December 27, 1944

3rd Battalion, I Company, 1st Platoon leader
---
Floyd Andrew Stott is listed on the 1944 - 517th PRCT Christmas Roster, Company "I," as 1st Lt. Floyd A. Stott.
Floyd was born March 24, 1921, to Wyot Leo and Elsie Mae (Ringsdorf) STOTT, in North Mankato Village, Nicollet County, MN. He spent his young and teen years helping on the family farm in Portland Township, east of Burt, IA. Floyd had two older sisters (Iola and Darleen) and a younger brother (Merril). Another sibling, George Wesley died as a youngster in 1920.
Richard Henry, a 517th Trooper, probably told us the most about Floyd in a letter he wrote to his mother February 16, 1945. Richard served as Floyd's SCR 537 operator (radio man) for much of their combat. Howard Hensleigh was good enough to provide the contents of this letter in the January 2004 issue of Thunderbolt.
Mr. Henry wrote that Floyd, "Had the maturity and wisdom of a man much older." Richard went on to write that Floyd had to work very hard on the farm and keep up with his scholastic studies too. Floyd told him he got up early to milk 4 cows and then walked 2 miles to country school.
According to an article in, "The History of Kossuth County, Iowa, 1912-1976, it states that Floyd was "2nd man" at the Burt Cooperative Elevator. It probably helped that Floyd's grandpa was one of the directors. Floyd graduated from Burt High School in 1938. He took the normal academic courses and played clarinet in the band.
Floyd's second cousin (Wendell Ringsdorf) related that the Burt music teacher started a small band that Floyd was a member with. This band played for local events. The cousin also explained that Floyd was the center on the basketball team and helped protect his smaller cousin from the bigger guys. One of Floyd's first cousins (Sylvester Brace) told me that Floyd had intended to become a mortician when he returned from Service.
Floyd enrolled at Iowa University right after high school. He enlisted in the National Guard February 10, 1941 at Ft. Dodge, IA, standing 72-inches tall and weighing 152 pounds. He entered the Iowa-Nebraska 34th Division as a Private in the Infantry. (This was the first unit to be called in WW II.) Floyd trained at Camp Claiborne, LA, and was assigned to Co. "G", 2nd Btn., 133rd Reg. with Serial # 20702655.
When Floyd was 19 he went overseas for more training to Northern Ireland, March, 1942, as a "Buck" Sgt. He returned to the States in October to attend O.C.S. training. Floyd brought back some fine linen made in Ireland. It is not certain if Floyd participated in basic training at Camp Toccoa, GA, and experienced Mt. Currahee.
After an Honorable Discharge February 16, 1943, from the National Guard, Floyd was called to the Army of the United States, February 17, 1943. (Serial # 01 311 445) On or about August 30, 1943, Floyd was assigned to Ft. Benning, GA, and joined the paratroopers where he was commissioned a 2nd Lt. After jump school, Floyd's platoon moved to Camp Mackall, NC, in March 1944, where he made 1st Lt. From here the unit prepared to be shipped overseas.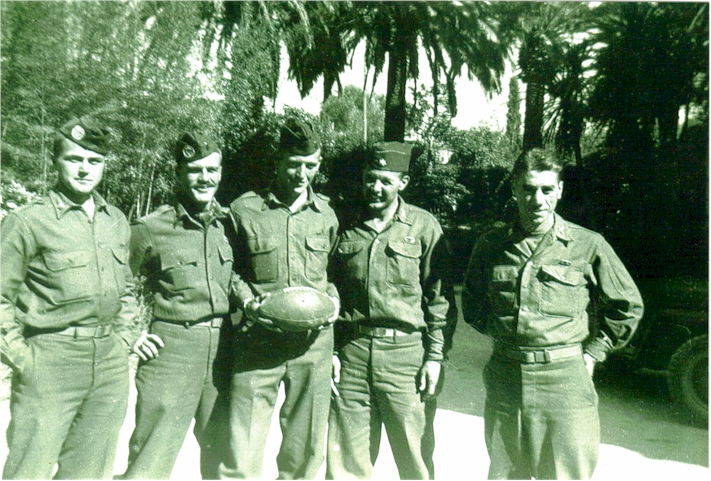 Left to right: Jim Birder, Erv Pinkston, Floyd Stott, Bob McMahon, Marty Fastia

at Camp Mackall
The 517th staged through Camp Patrick Henry near Newport News, VA, for 10 days and then crossed the Atlantic aboard both the Santa Rosa and the Cristobal May 17, 1944. Floyd and his outfit docked at Naples, Italy, May 31.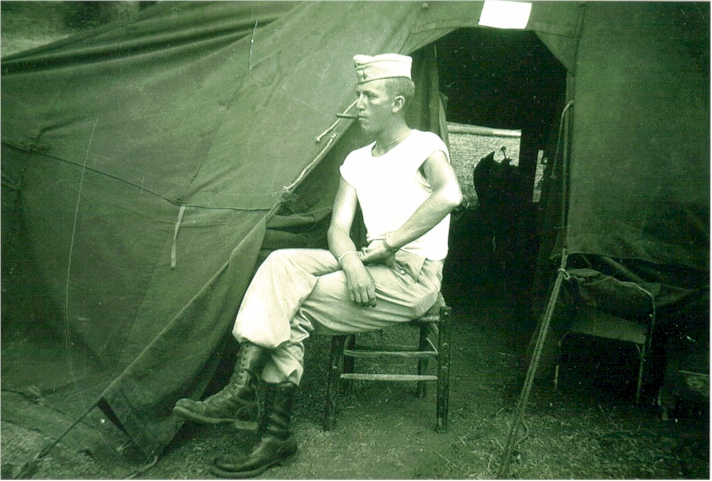 Italy - August 4, 1944
One month of fighting in Italy and then Floyd and his buddies jumped into southern France, August 15, 1944. Accounts of the ground actions are well documented in at least 3 publications about the 517th. Floyd is mentioned in some of these pages.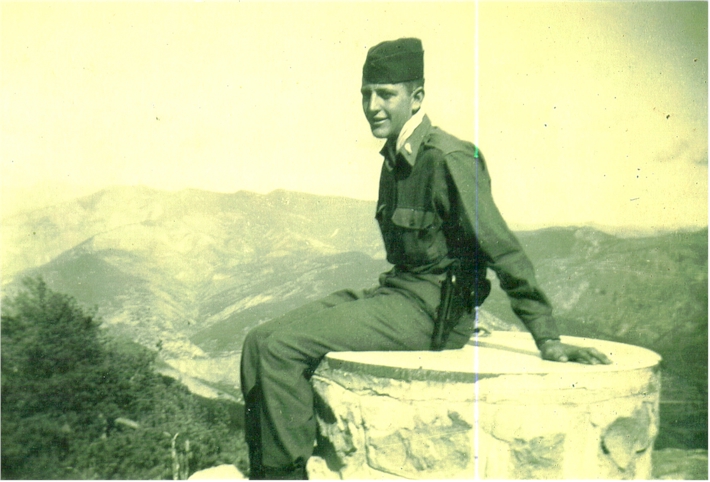 Maritime Alps, 1944
He served valiantly until December 27, 1944, when he was KIA near Manhay, Belgium. (See: Battle of the Crossroads by Eddy Monfort)
His final resting place is in the Henri-Chapelle American Cemetery and Memorial, 2 miles from the village of Henri-Chapelle, Belgium. His burial is at: Plot D, Row 11, Grave 1.
A Burt, Iowa funeral memorial card states that Floyd was awarded the Purple Heart, Combat Badge, and two Silver Stars. In an Algona, IA newspaper article for Portland Township it states that there was a memorial dedication for Floyd and another Burt serviceman. Two Colorado spruce trees were planted on the F. A. Ringsdorf farm because both of these boys had lived on this property at one time.
Some letters, cards, and V-Mail survive that Floyd sent to relatives and friends. These items, along with the many fine conversations and correspondences with Floyd's Band of Brothers in the 517th have provided valuable insights about their fallen comrade. The following are a few comments from these mailings as well as a final comment made by a 517th Trooper.
Floyd wrote to his Aunt Tressie that, "Bananas are what I miss." On March 22, 1943 he wrote Tressie, "Pretty good bunch of fellows here. Numerous insurance men around. I wonder if any of their policies cover the parachute. I have $12,000 and that's all I care to carry."
In a V-Mail, dated Sept. 15, 1944, he wrote, "And crazy people shooting at each other."
Another time (Nov. 11, 1944) he wrote to Lewis McWhorter, "Tomorrow is the Anniversary of the Armistice, and I wish history would repeat itself this time in that respect. Our Company was pulled out of the line long enough to participate in a parade. There were troops from other countries but the paper said we looked best (in the rain too)."
"Floyd was a jewel. He had a rare sense of humor ('droll' as Howard wrote to Richard Henry) and always could be counted on." -- Howard Hensleigh
Material accumulated and written December 19, 2009
by Kenton Floyd Immerfall, Nephew of Floyd A. Stott