517 Europe Road Trip - August, 2009
Part 1 - Belgium
---
Here are some pictures of the trip to Belgium and France in August 2009, with Ben Barrett, Lud Gibbons, Gene Frice, Merle McMorrow, Allan Johnson, Leo Dean, Tom Copsey, Nancy Armand Fraser, Jeanie Davis and families. Soon, we'll write a better "After Action Report" with only the highlights, but for now, here's a raw dump of a lot of photos.
Click on pictures to enlarge
---
Day 1
Brussels:
---
Day 2
Ceremonies in Manhay:
---
Gen. Gavin's 82nd Airborne Command post in Bra-sur-Lienne:
---
St. Jacques church, with Eddy Montfort, Maria Gaspar, Deiter Laes, Chevalier Maurice Massange de Collombs, and many other friends
At the Cathedral St. Jacques, we found candlesticks with the names of Milton W. Johnson and Francis A. Bloom, both B Company, KIA in St. Jacques
Photos in Church St. Jacques of Layton Pippin and Richard Lyman who, along with Corwin C. Clark, all of H Company,
were killed in Bergeval on Jan 5, 1945. (The same gun that wounded or killed 17 men of H Company, including Ben Barrett)
---
Maria Gaspar's house in Bergeval: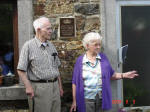 Ben Barrett and Maria Gaspar
---
Looking for where Ben Barrett was wounded in Bergeval:
---
Musée de la Bataille de la Salm et du Saillant:
Thank you Eddy Lamberty and our hosts at the Museum!
---
Trois Ponts (Wanne):
---
Monument at Logbierne:
---
Trois Ponts with Irma and Arnold Targnion and friends:
---
American Cemetery Henri-Chappelle:
---
Malmedy memorial:
---
Stavelot:
---
Day 3
Breakfast at La Métairie Hotel in Wanne
---
Memorial ceremony by CADUSA and the citizens of Wanne and Trois Ponts at the 517th Monument in Wanne
---
Formal Ceremony at the Mayor's office in Trois Ponts, then lunch:
---
German Tiger tank and Battle '44 Museum at La Gleize:
---
Tower on the hill above Trois Ponts, where the Germans defended their position from the Americans on the opposite hills:
---
Back in Wanne at the 517th monument with Arnold Targnion, Ben Barrett, Irma Targnion, and Lud Gibbons:
---
Don't ask: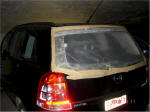 ---
Part 3 - Col de Braus and Le Muy, France
Part 4 - Le Muy (from Gilles G)
Part 4a - more from Le Muy (from Philippe Cornier)
Part 5- Fayence, Callian, Montauroux, France (from Gilles G)
Part 6 - St. Cezaire (from Gilles G)
---
received August 2009
from the Barretts