Staff Sgt. Joe Cornett and friends
I have this picture of my father, Joe Cornett, "I" Co., that I'm having a hard time finding anything about. I'm going to send it to you, maybe you can put it on the web site and see if anyone can tell me were it was taken, or anything else about it. Dad is the trooper in the middle. I think this picture came from the Stars and Stripes. Dad never said where it was taken, it would sure be interesting to me to find out.
Thanks,
Bill Cornett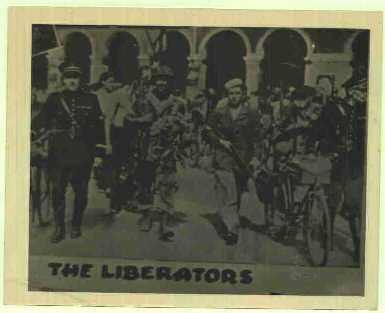 Received Jan 2003:
Dear Ben,

I am Frederic Brega 29year-old born/living in Nice. My hobby in WWII history.

One of your reader Mr. Bill Cornett (son of S.Sgt Joe Cornett) published a picture of his father in 44 - South of France, asking an identification. This picture has been taken in Nice in the middle of the famous Place MassÚna (biggest in Nice) where the population met to welcome the liberators in Summer 44.
I would be happy to be in touch with Mr. Bill Cornett and give him more info.

With best regards,

Frederic Brega (Mr.)

"I" Company
Left to right: Frederick T. Beyer, Joe Cornett, Anthony S. Celli, and Jim M. Ray.
PFC Anthony S. Celli, who was killed in Provence ( see 517 Honor Roll) -- BB]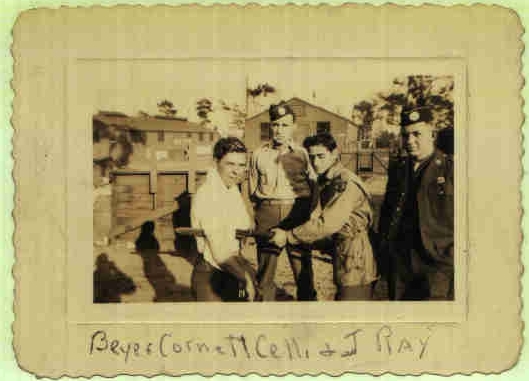 Joe Cornett (left) and Frank Dallas, "I" Co. in Aachen Germany.