John "Jack" Moon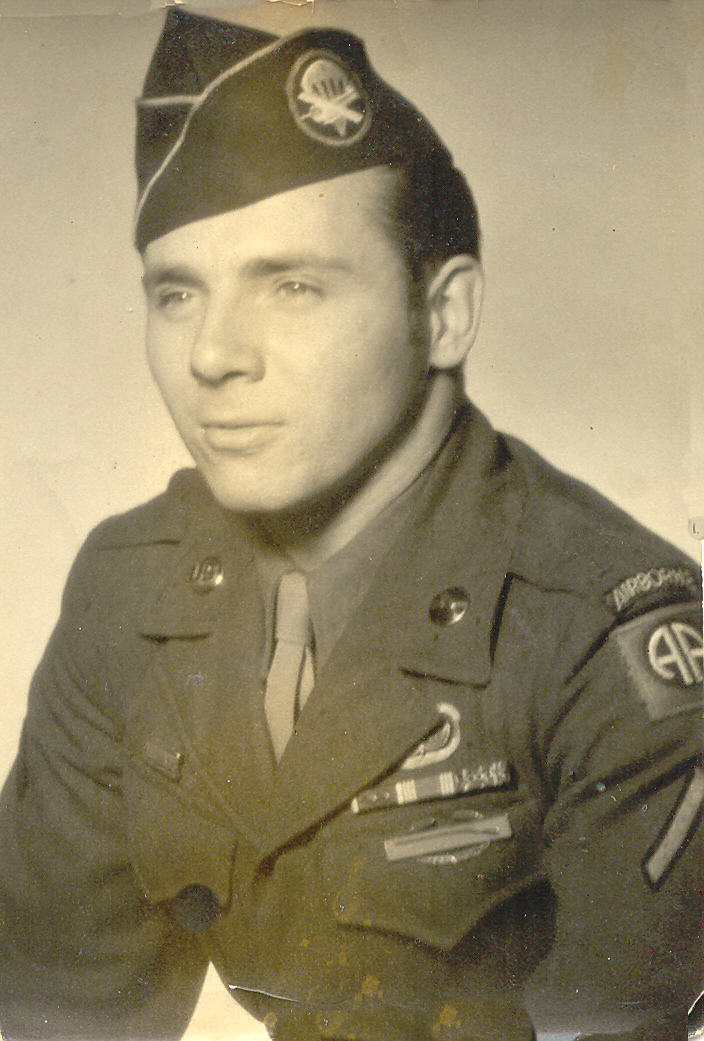 596th PCEC, H Company
517th Parachute Regimental Combat Team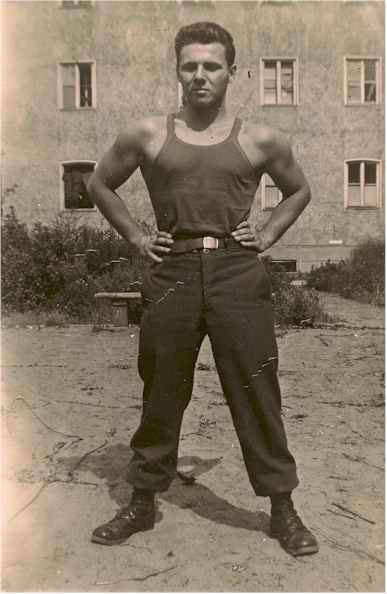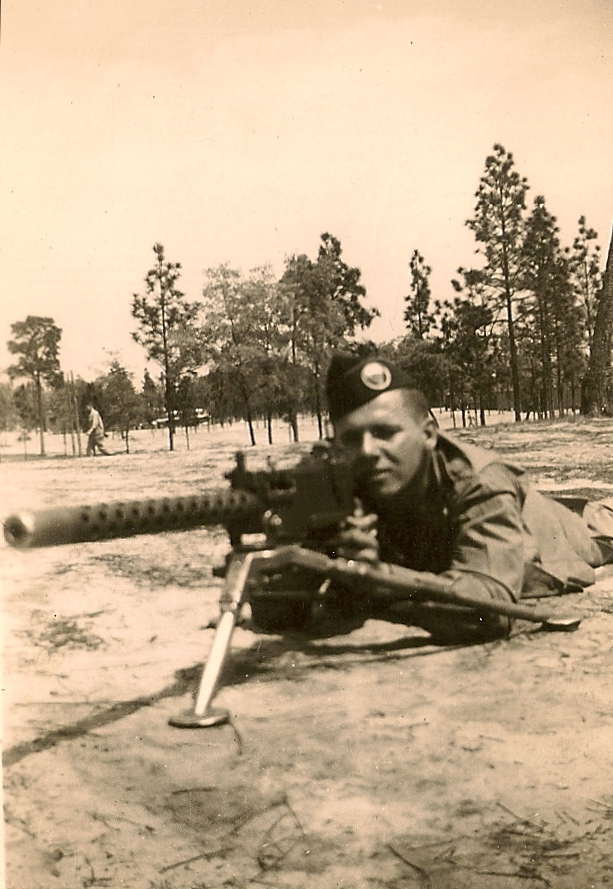 Received from Geoffrey Harding
May 2013
---
Information and photo's on my motherís brother Uncle John "Jack" Moon born Dec. 23, 1924 died Aug. 6, 2005 enlisted at Fort Niagara March 30th 1943 was sent to South Carolina for training he was with the 596th 517th Company H he was in the Ardennes, Central Europe, Rhineland, Rome, Anzio, Southern France and the occupation of Berlin, he carried an M-1 rifle but mostly used a Thompson machine gun. He was wounded 3 separate times and missing in action at one point, his worse wound took place in Manhy France which took place June 19th 1945, his medals include the American Service medal, European African medal, Middle Eastern Service medal and the purple heart with three oak clusters. he was discharged Nov. 25th 1945.
Sincerely yours
Geoffrey Harding
---
Hi Geoffrey,
Great info and photos! With your OK, I will create a page on the web site for Jack Moon, and also put your note in the next MailCall newsletter.
But a couple of questions. And I apologize in advance if this is too much info.
There are a couple things in your note which leads me to more information about Jack Moon, but itís confusing. You say that he was with the 596th, but also H Company (which would make him with the 517th PIR, not the 596th PCEC). I did some quick research, thinking that it had to be one or the other, and I see that there is a John Moon listed in both at different times. Iím not sure if there were 2 John Moons, or maybe he transferred between units. Let me point you to a couple of sources and maybe you can help recognize him in a couple of photos.
First, here is a photo of the whole 596th at Camp MacKall in 1943 ( http://517prct.org/photos/596th_pcec.htm ) and the legend ( http://www.517prct.org/photos/596th.pdf ) lists John Moon as the 11th person in the second row. Can you tell if that is him?
Also, here are some pictures from Don Saunders of the 596th, and there is a Moon listed in two of these pictures. Can you tell if those are your uncle? I think most of these were taken during training just before the war. http://www.517prct.org/photos/don_saunders/don_saunders.htm
And in 1985, John Moon is listed on the 596th roster: http://www.517prct.org/documents/596th_newsletters/Wings_December_1985.pdf
Now, here is the roster for the 517th in December 1944, just before the Battle of the Bulge. There is a John J. Moon listed with H Company. (My Dad was in H Company, by the way.) See: http://517prct.org/documents/xmas1944/xmas_1944_company_h2.jpg
So I donít know if there were 2 different John Moonís, or he switched between the units at some point.
Also, you say that he used both an M-1 and a Thompson machine gun. Usually it is the infantry (517th) that are weapons experts, while the 596th are engineers, although the engineers are certainly trained and carry weapons as well.
Finally -- and Iím not nit-picking, just trying to help Ė you say he was wounded in Manhy, France in June 1945. Thatís probably a little off, since the action was done by June 1945. Most likely, he was referring to Manhay, Belgium around Christmas 1944, since many men were wounded in the attack on Manhay. My Dad talked a lot about that battle. So I did some more research. I have scans of the morning reports for H Company, and I see records of John Moon, a rifleman with H Company, in Italy, in France, wounded in Piera Cava France in September 1944, and SWA (Seriously Wounded in Action) on December 19th, 1944 in Manhay Belgium.
Whew. Too much information? Not sure if I helped, or just made it more confusing. -- BB
---
Yes those are Jack in the photo's you indicated, except the last one with the football players -all I know is in our last conversation he was with the 596th parachute engineering company H, and the 504th which must be wrong and the 517th, he might have been confused as he had a stroke at the time, and had some problems talking, though with patience I could understand him -his full name was John Jesse Moon, but he went by Jack.
He told me he carried an M1 but ended up with a Thompson, the only time he knew he killed a man was in Italy with his Thompson while on patrol, he said he was checking out some Roman ruins while the patrol was taking a break when he encountered a young German soldier, he yelled at him to surrender but the fellow swung his rifle up and Jack said he emptied a clip at him and then ran like hell back to his patrol, they returned to where he shot the man and sure enough he was dead but no other Germans were in sight. I asked him how ever kept from being shot, he said he learned real quick to keep his head down, his 1st taste of combat was in Italy, they were pinned down by some Germans on a cliff, and Jack said a fellow next to him stuck his head and caught one in the forehead killing him instantly, he also said at one point they all fired up the side of the cliff and a German medic came tumbling down with his head split in half, Jack told me some pretty gruesome stories when I was a kid, probably because I always bugged him to tell me some war stories, my mother got upset one time when she overheard him and he said the boy keeps asking and I'm not going to make a fairytale out of war I'll tell him like it is.
The one time he was seriously wounded , like you said it must have been in Belgium Manhay, he said they were in a firefight and there was 30 caliber machine gun in a shell hole across a cobble stone street, and they were running out of ammo, Jack and another fellow volunteered to run across the street with ammo, the other fellow in front of him -he said the last thing he remembered was stepping on the cobbles, and then woke up about thirty feet from where he started in the middle of the street sitting with his head between his legs, his pants were in shreds and he was bleeding pretty badly, the other fellow was laying next to him with the top of his head cleaved off like it had been surgically removed, and he was still alive moaning, he died later that day, the two men in the shell hole manning the machine gun were also dead, a direct hit with an 88 had hit the shell hole with the machine gunners in it, he believed the fellow that was in front of him took the brunt of the explosion thus probably saving his life.
Sincerely yours
Geoff
---
SoÖ Does anyone know whether Jack Moon of the 596th is the same Jack Moon in H Company? Did men transfer between these units? --BB